I am open to cooperation with adequate partners.
Guest articles are only published with editorial supervision and only in exceptional cases. Both chemistry and product have to be balanced.
If you want off-topic press texts, I'll be happy to help you there as well, with or without ChatGPT, it's up to you!
Grandgourmand does not accept requests for sponsored links, sponsored content or similar seo-oriented techniques! Please abstain from making such requests.
Since 2014, the magazine stands for quality, timeliness. Even the big names in the culinary guild trust us and are happy to answer our questions.
AHGZ Ausgabe 45, Seite 2
Interview with Joachim Wissler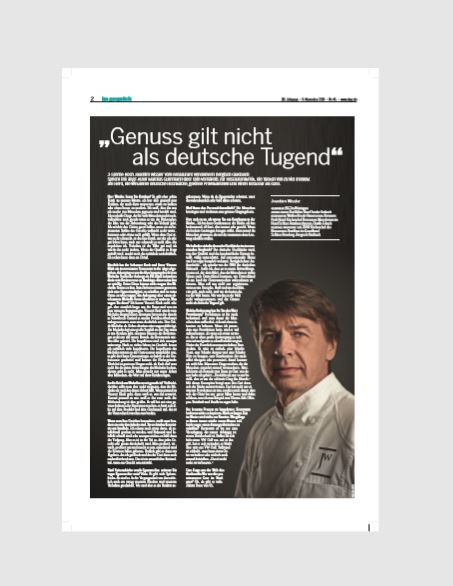 Interview with germanfoodblogs:
Interview mit Germanfoodblogs
here is the grandgourmand Media-Kit
writing about portwine, printmagazine pdf
MACH'S MAHL The campaign for good food in Baden-Württemberg
Presse-Trip Israel Media Coverage
media coverage Cook of the year
You want to cook something from special ingredients, but you do not have the experience, perhaps also the knowledge?
We would be pleased to prepare a recipe for you, with photo on request.
You will receive your individual recipe with the correct quantities, the detailed preparation steps and the preparation time!
We compare your ingredients with international reference products and, if necessary, we prepare the recipe for you once in a trial session, it is put to the acid test!
contact us here: