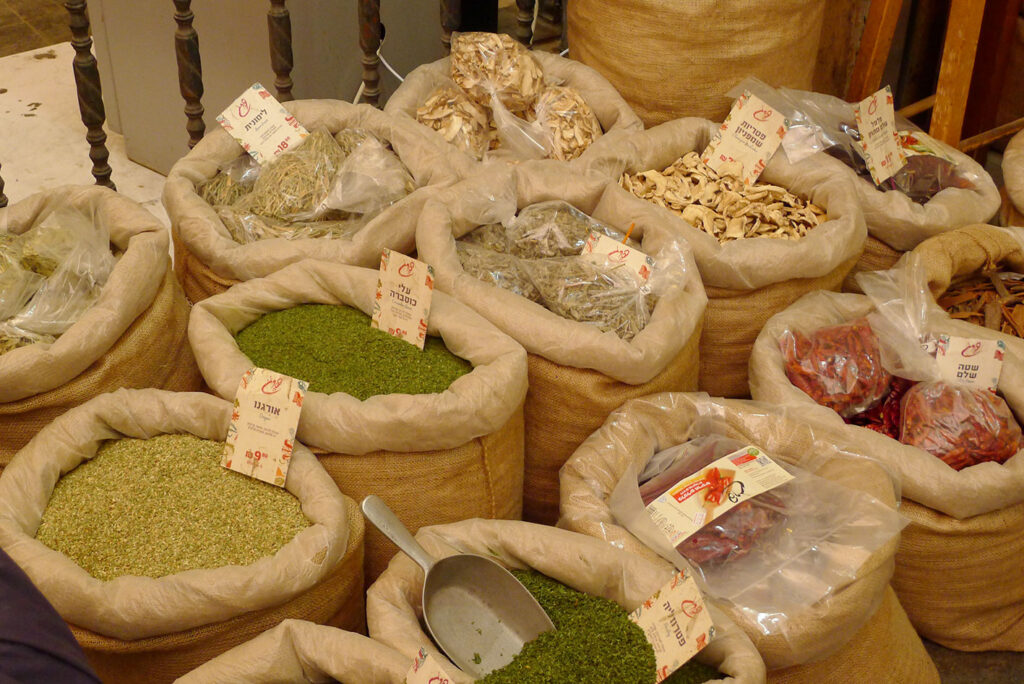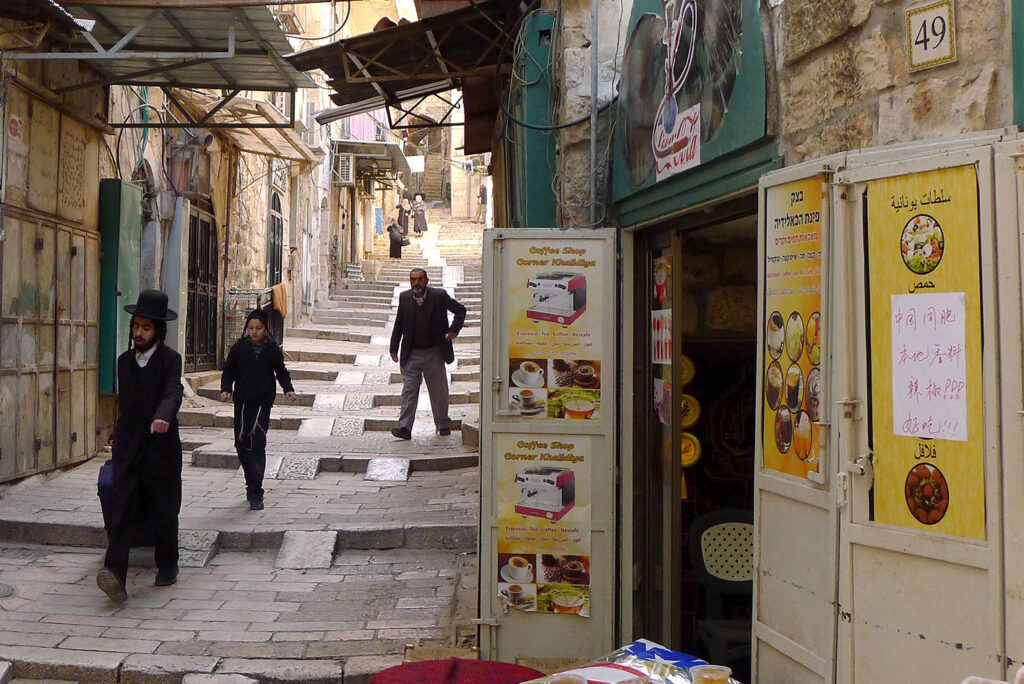 A
n invitation from the Israeli Ministry of Tourism is not to be dismissed. In combination with many new taste experiences, the trip also promised a refreshment of the cultural horizon and a meeting with colleagues from the international food scene.
In my mind, the Middle East, especially Israel, has always been a worthwhile goal, where people of different religions try to get along with each other in a close environment. Especially the Old City of Jerusalem is a true World Theatre of currents.
Christians, Jews and Muslims claim the territory for themselves, the Wailing Wall is the most important Jewish sanctuary, right next to it is the Dome of the Rock, according to Islamic tradition Mohammed is said to have set out from this rock for the Ascension and his encounter with the former prophets of Judaism and Jesus.
For Christians, the Via Dolorosa and the Church of the Holy Sepulchre are of highest importance. This enumeration alone shows us how explosive the situation in Jerusalem is on a few square kilometers. No matter how hard the traveller tries to avoid political thoughts, he will not succeed, life in the narrow Old Town of Jerusalem is too pulsating, the security forces are too present and the tensions are too obvious. Nevertheless: It works, or rather, it must work!
The Israelis cultivate a way of life that has adapted to the circumstances, one creates a certain nonchalance over time, because you know that you can't change reality and have to arrange for it, so they enjoy life.
The Middle East is known for its wonderful street food dishes. Falafel, of course, in all imaginable variations, made of deliciously smelling pita bread often still warm from the oven, some finely chopped coriander leaves and fresh vegetables, a few fried chickpea balls in it, a little bit of yoghurt and this simple but delicious meal is complete, Practically everyone can afford to eat.
Until some time ago, Israeli cuisine did not have a good reputation. They tried to sell a mélange of Viennese delicacies and a kind of French cuisine as the real Israeli cuisine. The error has been corrected, and over the last few years the kitchen in Israel has almost exploded. The texture, sensory and taste were discovered and concepts that have long been obsolete by established top gastronomers were abandoned.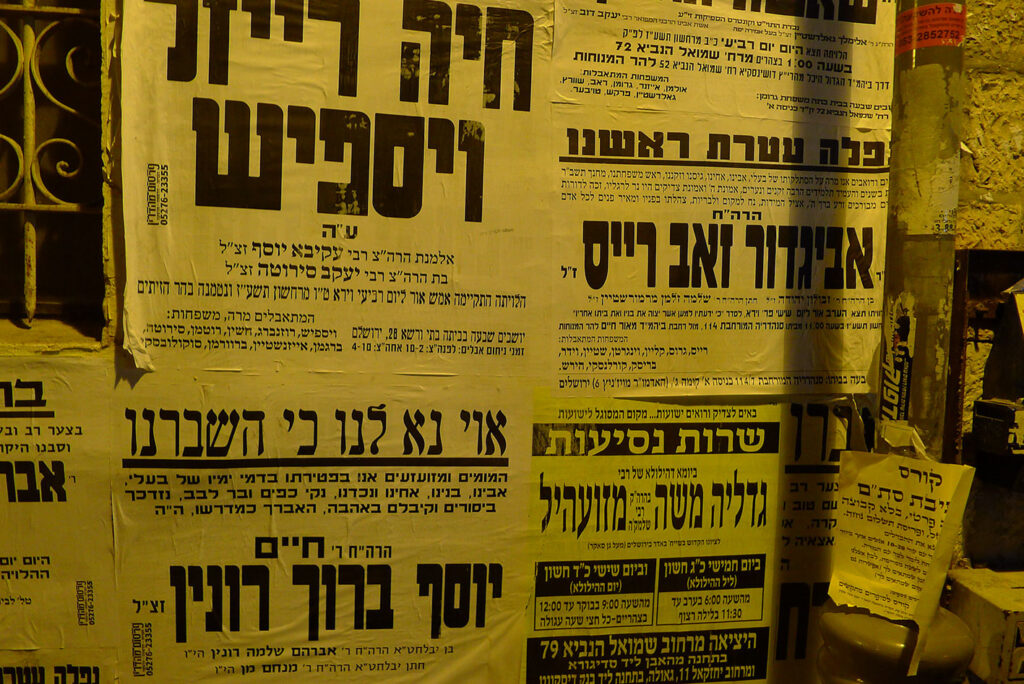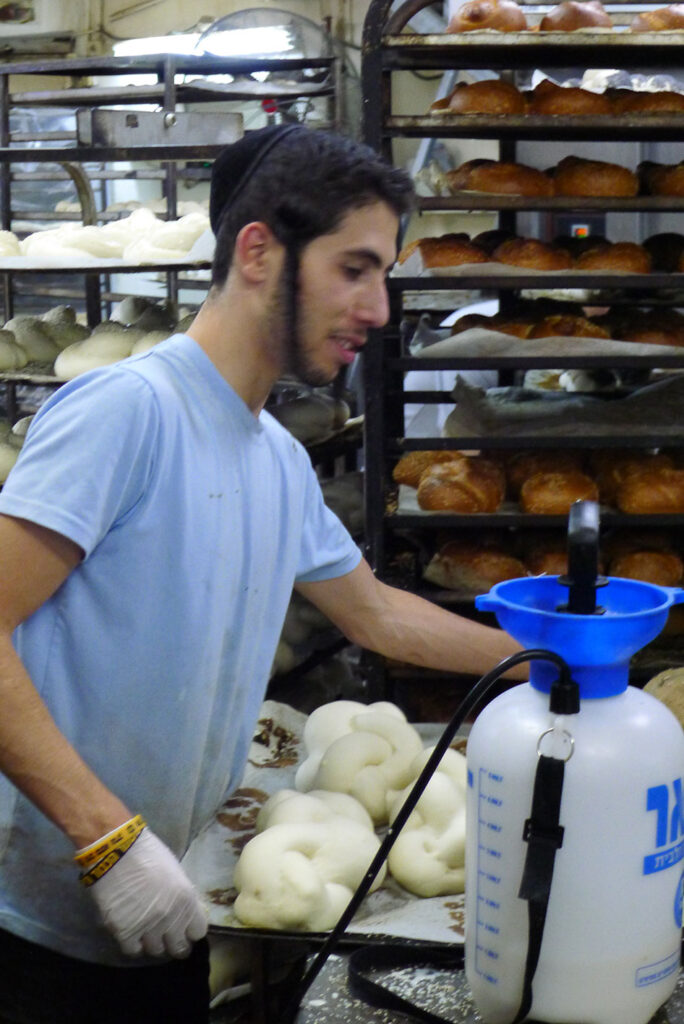 Kosher
There is the strictly kosher cuisine in Israel, which is favoured by the orthodox Jews, to give just one example: milk and meat are always cooked and served separately. The rules are complicated, there are innumerable regulations. These food laws come from the Torah, which in turn consists of the five books of Moses.
Such food can be found in its purest form probably in "Me' a Sche' arim", this quarter is located just outside the old town and is inhabited by the ultra-orthodox Jews. Even the Internet is taboo here. The visitor may be surprised that the walls of the houses hang full of posters from top to bottom. These posters tell all kinds of stories, someone offers a good deal, invites you to a party or angers about his neighbor. The population of the district is government critical, even military service, which is obligatory for men and women in Israel, is rejected here.
In Me' a Sche' arim, it is the rule rather than the exception to refuse to serve at the gun and so there are many messages saying that the girl or boy from the quarter refuses to join the military, a world of its own.
Visiting this neighborhood is like a journey back in time, a time before Facebook and Instagram, archaic!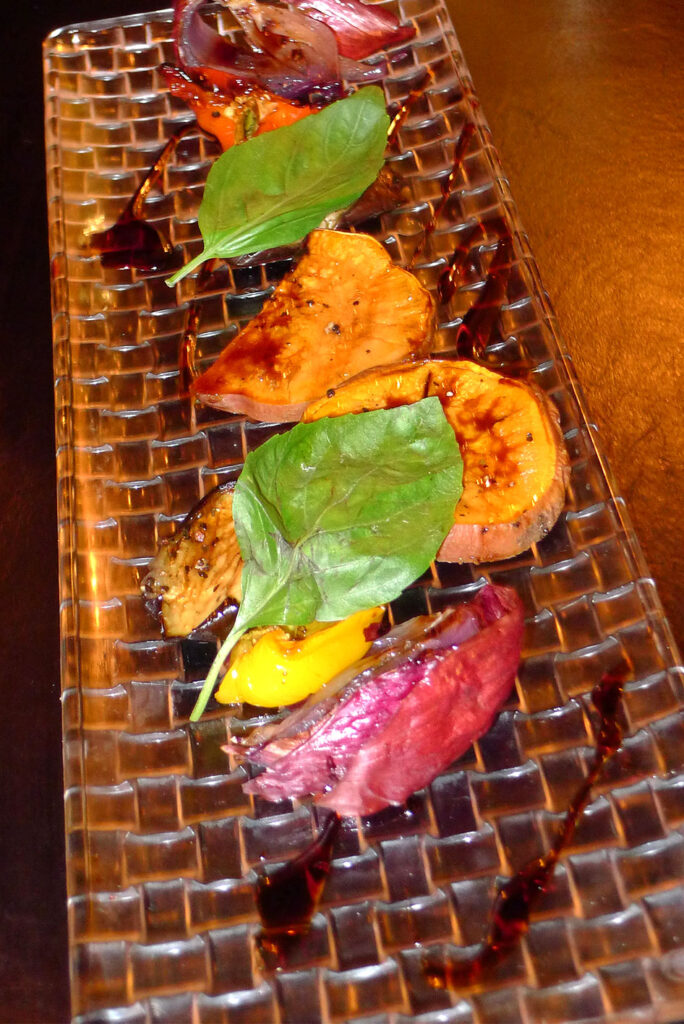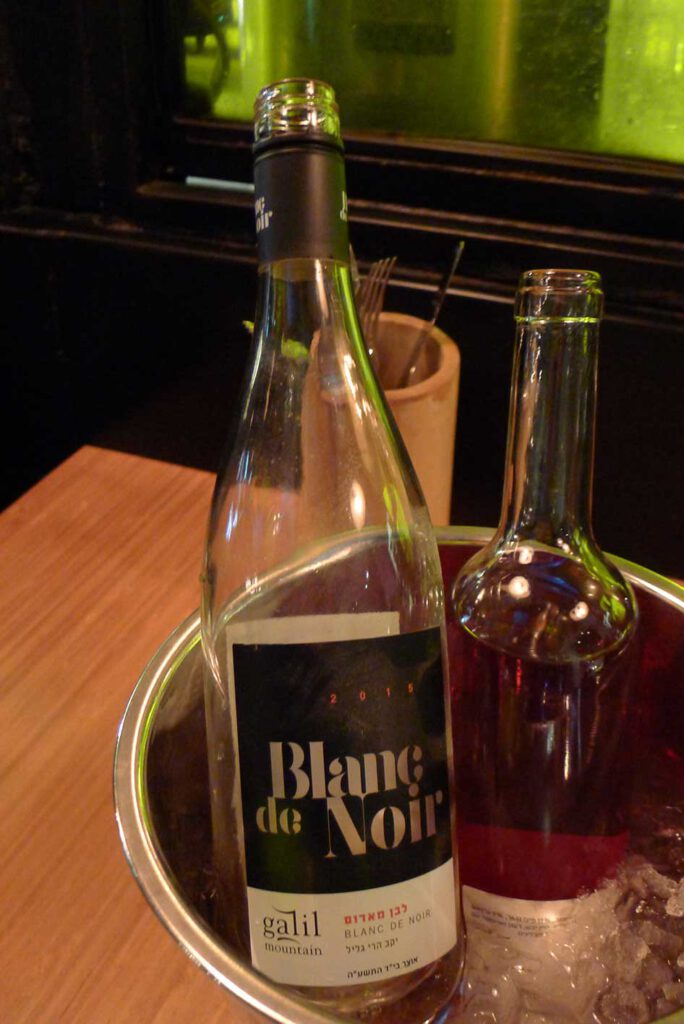 Young Israeli cuisine
On the other hand, there is a very fresh, very young and wild Israeli cuisine that makes our tongue dance and appeals to the palate. Playing with aromas, providing a great food experience and surprising us with unknown combinations. Nothing is more beautiful than an imaginative Mezze fan made of humus, grilled chicken liver (which, by the way, I've never eaten as fine as in Israel), stuffed vine leaves, chili paste and what else the kitchen has to offer. The tasty Dates and the Pomegranates are omnipresent, from the latter a refreshing juice is pressed. One can claim that Israeli cuisine has now found its identity.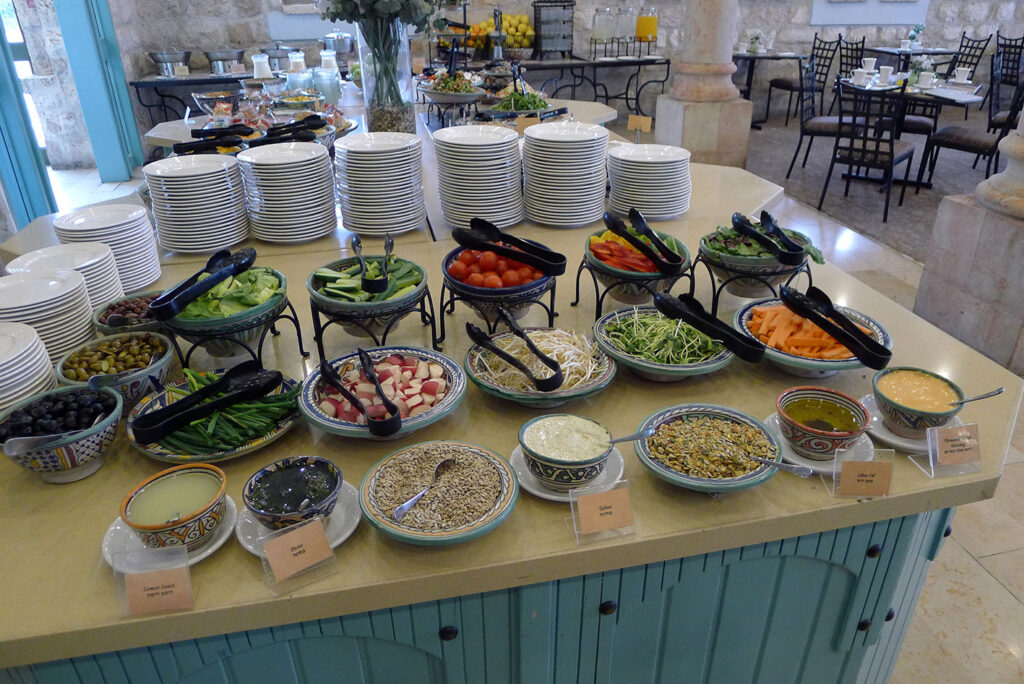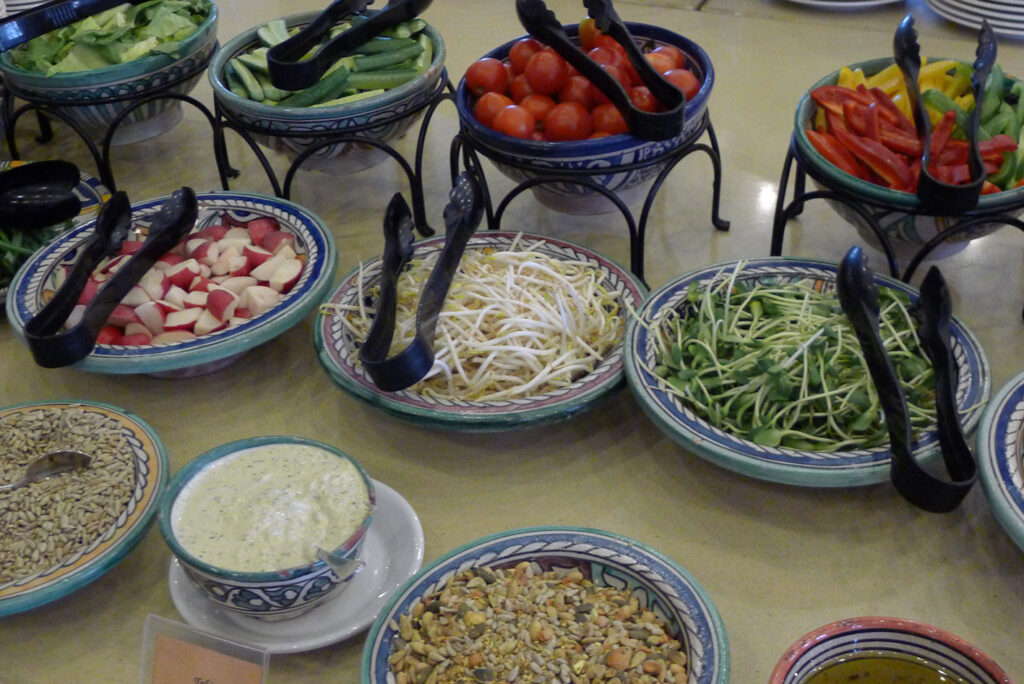 Breakfast, Mount Zion Hotel, Jerusalem
Breakfast in Israel is a pure pleasure, fresh vegetables are served, deliciously prepared, egg dishes in many different forms, cheese from the country and fish.
Anyway, the fish! The Israelis love it. It is highly recommended in the upscale gastronomy, especially in coastal towns like Haifa or Akko, where Uri Buri runs his famous fish restaurant. Uri Buri is a legend in Israel, the autodidact serves his fish specialities in a colorful, sensual and playful way.
Breakfast was served particularly lovingly at Mount Zion in Jerusalem, a recommendation!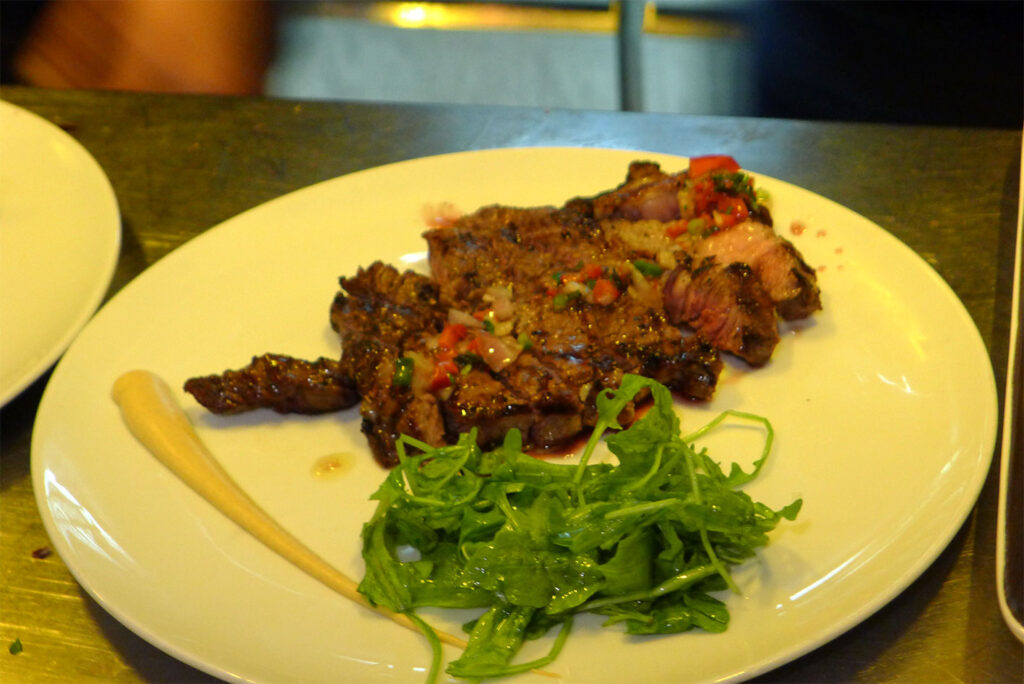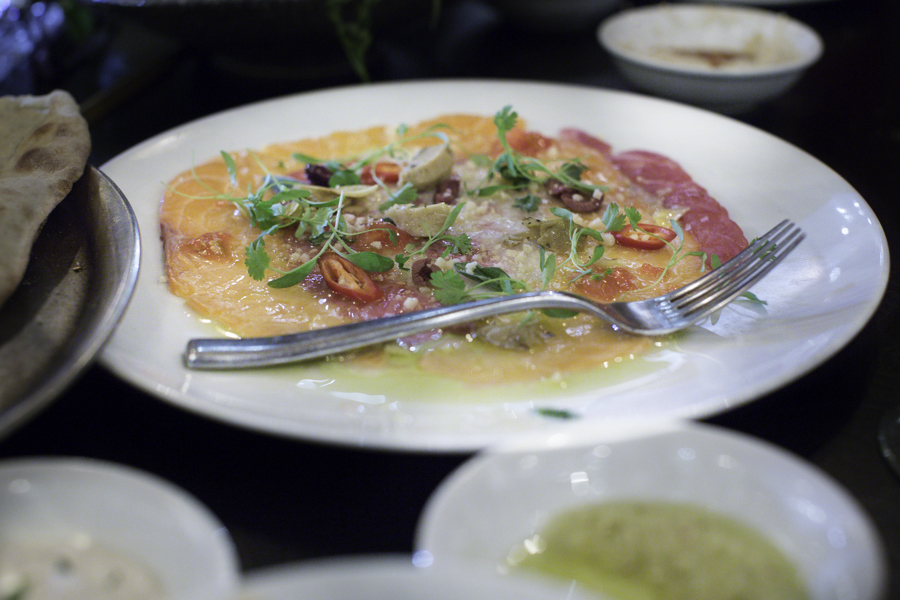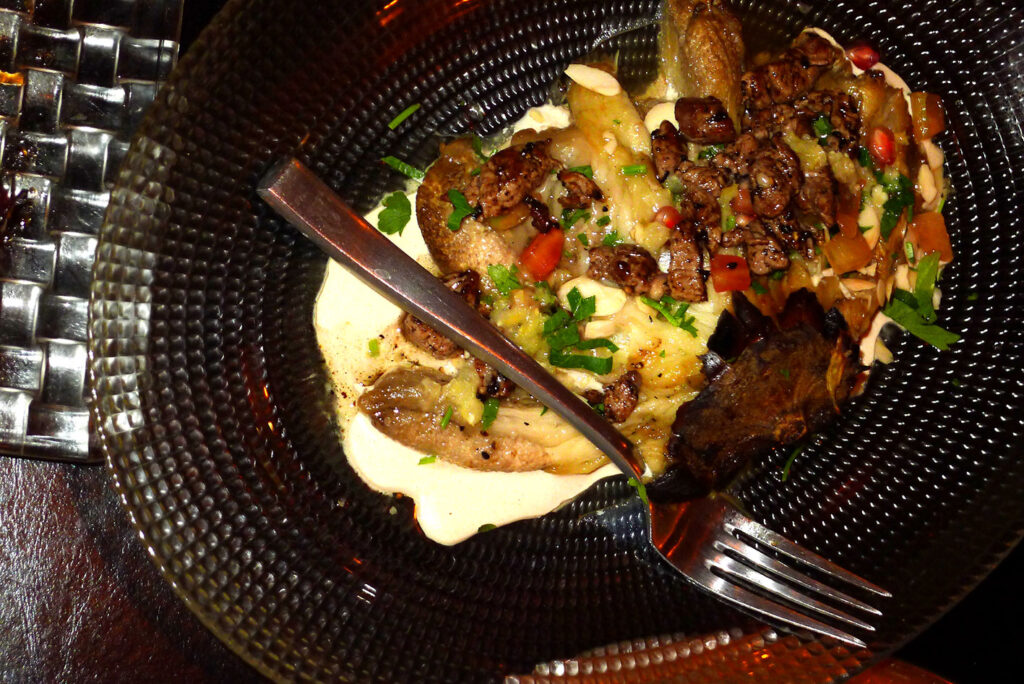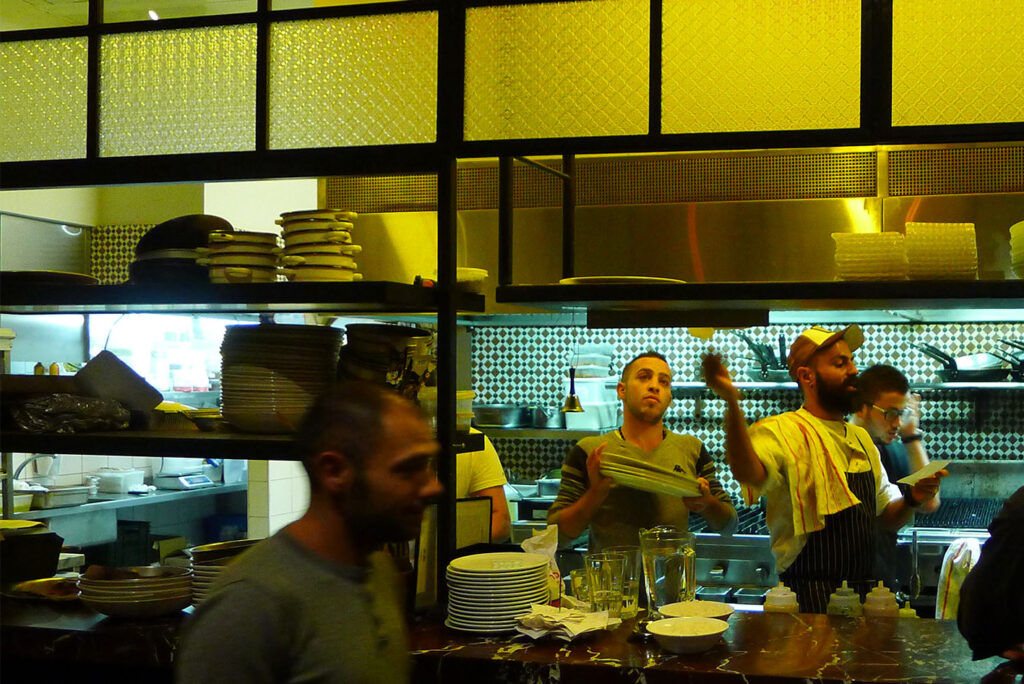 Medita
For people who love it meaty, we recommend the Medita in Jerusalem. Chef Motti Ohana has written the menu without subdivision into starter, main course, dessert etc..
The fish carpaccio was indeed very delicate and presented in a very professional way.
The focaccia with sea salt and rosemary was excellent, fresh, fragrant, aromatic. Various dips were served, a recommendation!
The entrecôte was tender as butter and perfectly grilled.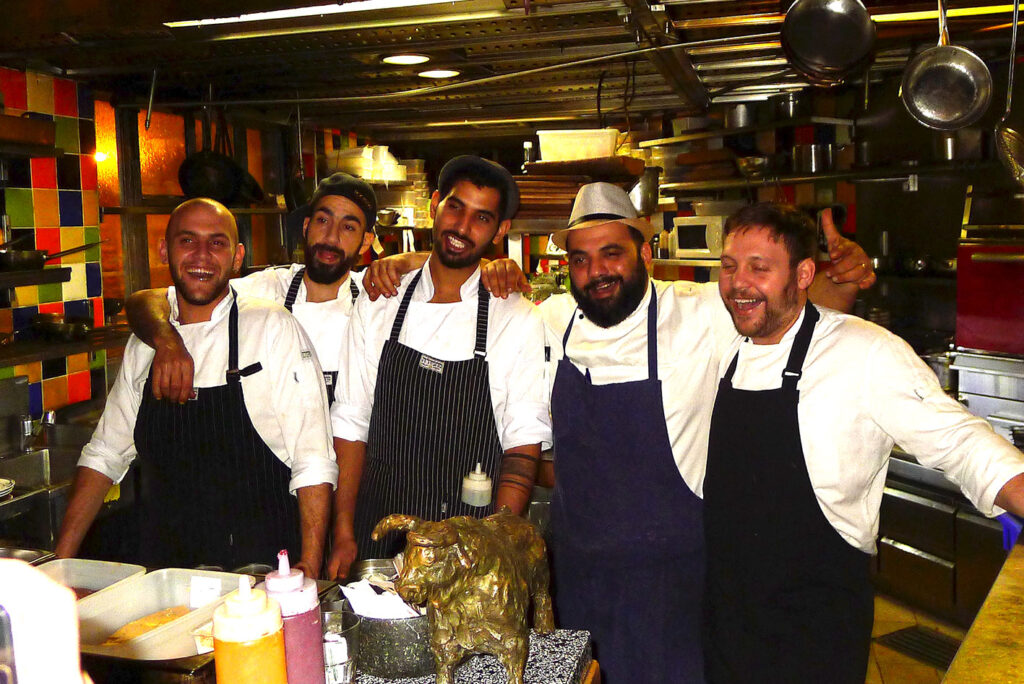 Cult Restaurant Machneyuda
Next to Mahane Yehuda Market is the restaurant of the same name. It is run by Uri Navon, Assaf Granite and Yossi' Pappy' Elad. With passion, skill and emotion, the trio run this wonderful restaurant with its Mediterranean cuisine and their own unique signature.
It's quite possible to see dancing on the tables, the restaurant is loud and lively, the pure joy of existence!
My recommendation: polenta with mushrooms, parmesan and truffle oil. The polenta is deliciously creamy, you can feel with how much love and devotion it is prepared, together with the mushrooms a very well composed piece!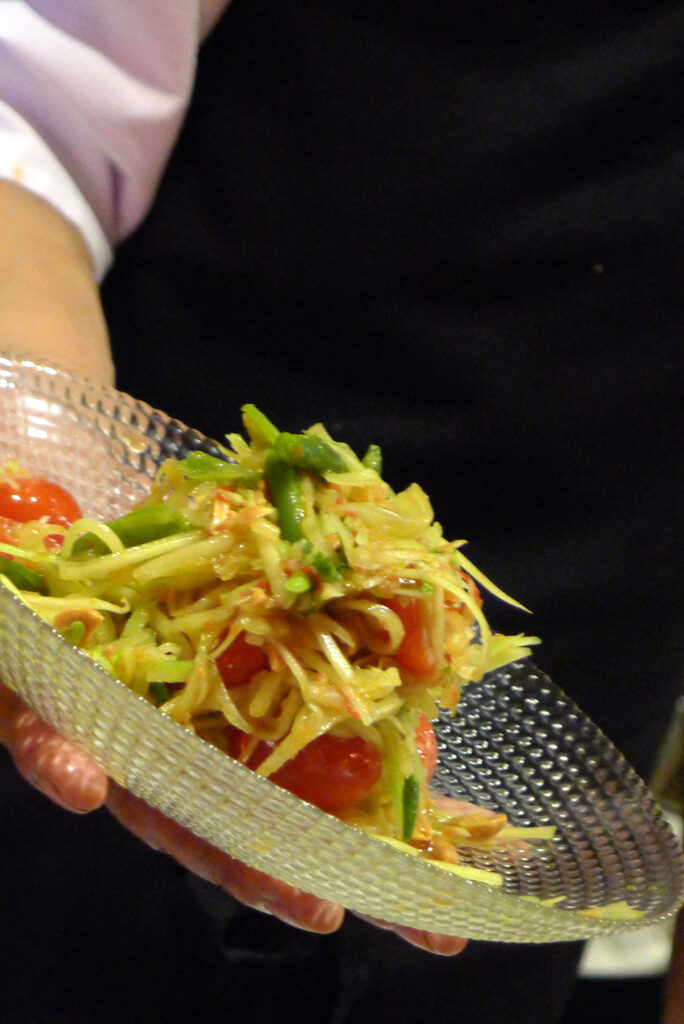 Station 9, Ron Finzi
Finzi serves Asian cuisine with his own characteristics. The dishes are often prepared à la minute and are convincing due to the multifaceted sensory perception. The art lies in realizing Asian cuisine that is supposed to be kosher at the same time.
This is difficult because many ingredients are not allowed, creativity is needed!
I was invited to taste a salad of green papaya, lime, garlic and chili.
The dish is rich in contrast without looking too catchy.
It was followed by a lukewarm salad of Wakame algae and a dish with sesame oil and chicken.
I can highly recommend the restaurant. The open kitchen is exciting, the guest can participate directly to the action. The ingredients are of excellent quality.
One thing is evident: Chief Ron – that's what he prefers to be called – has already found his own style and will certainly continue to refine it in the future, I wish him every success.
A visit to Ron Finzi's "Station 9" is already a clear recommendation!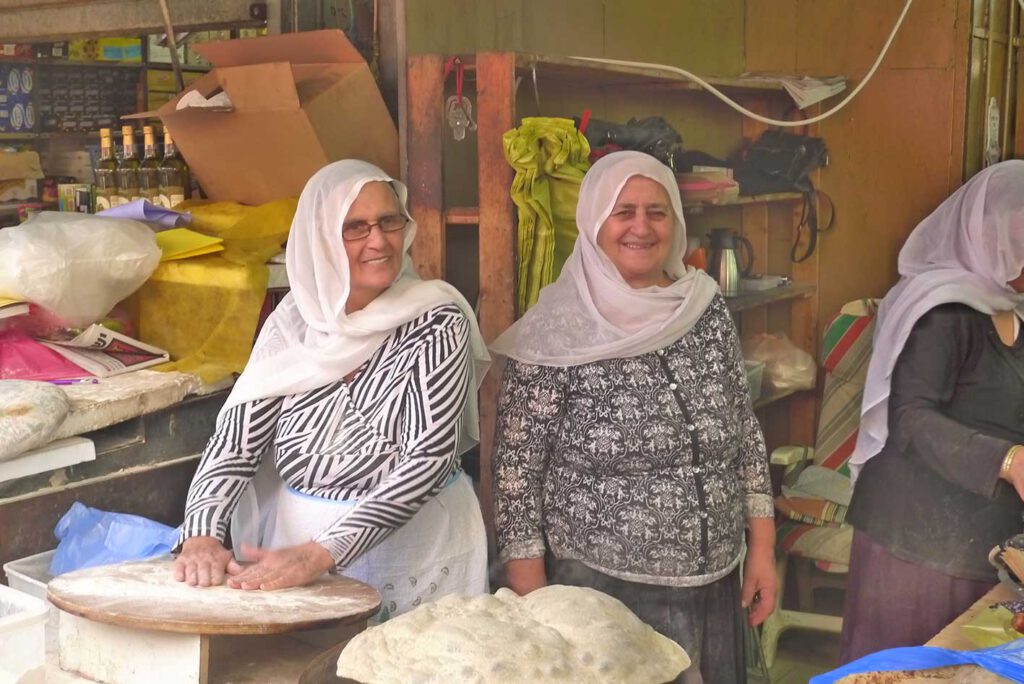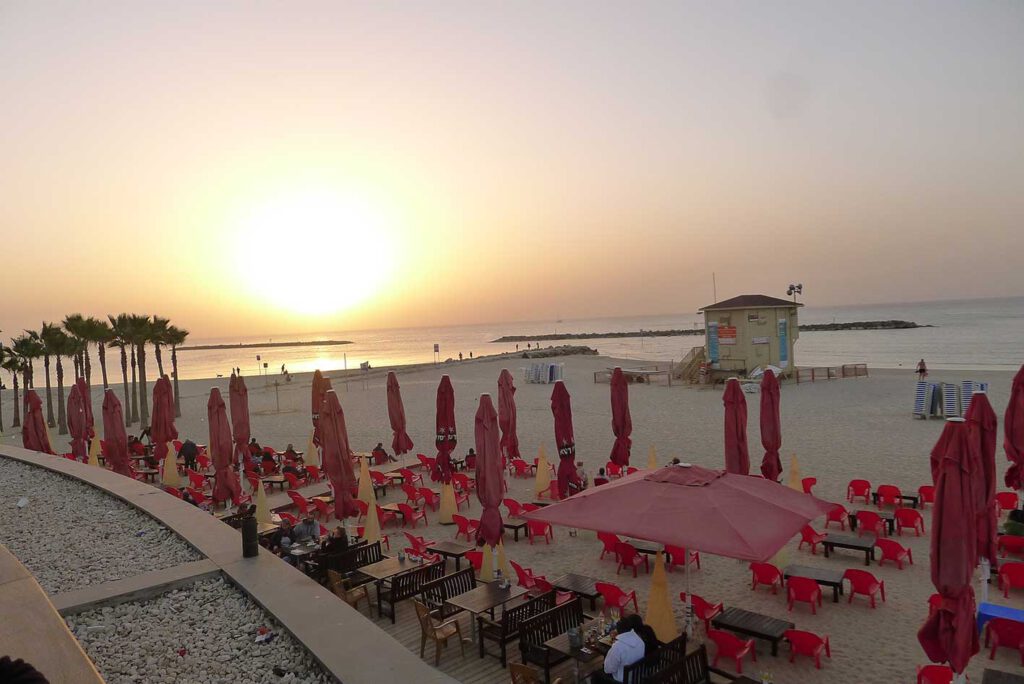 Tel Aviv, joie de vivre and tolerance
It is only forty or fifty kilometres from Jerusalem to Tel Aviv and it seems that you are suddenly entering another world. Even though Jerusalem is very beautiful and has a lot to offer, I felt like I was under a big religious cheese bell. Faith rises up from every opening, religion is sweated out of every pore.
This is quite different in Tel Aviv, a pulsating, lively city, tolerant in all respects, and not without reason perhaps the capital of gays and lesbians.
The Carmel market is a tourist attraction, I decided to go for a long walk on the beautiful city beach, if you take some time you can walk to the historical Jaffa, where you can stroll between old Arabic walls.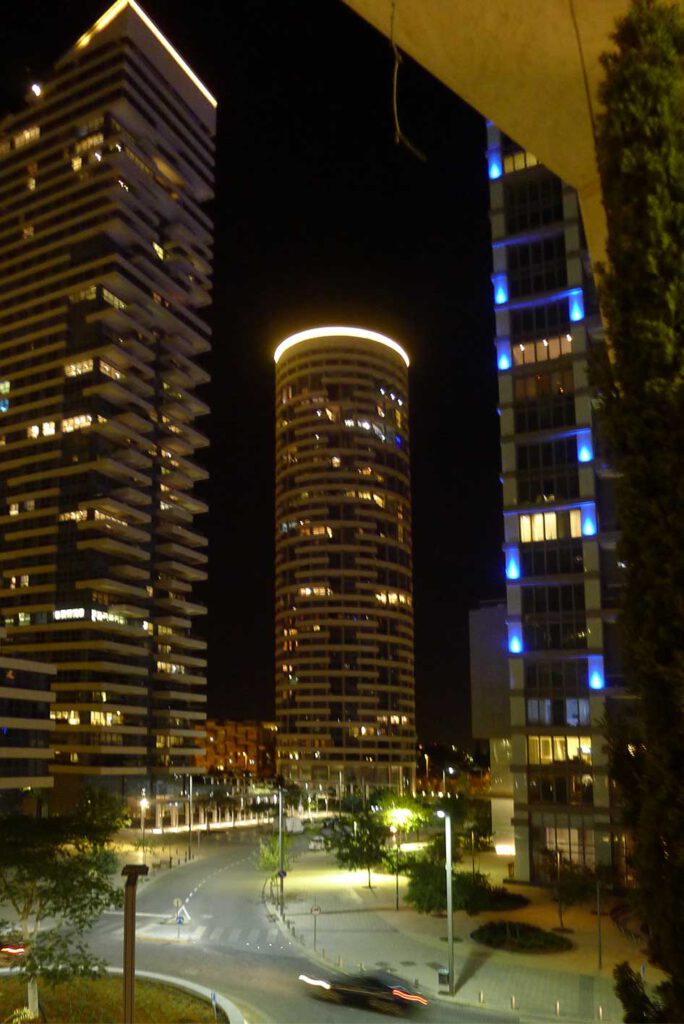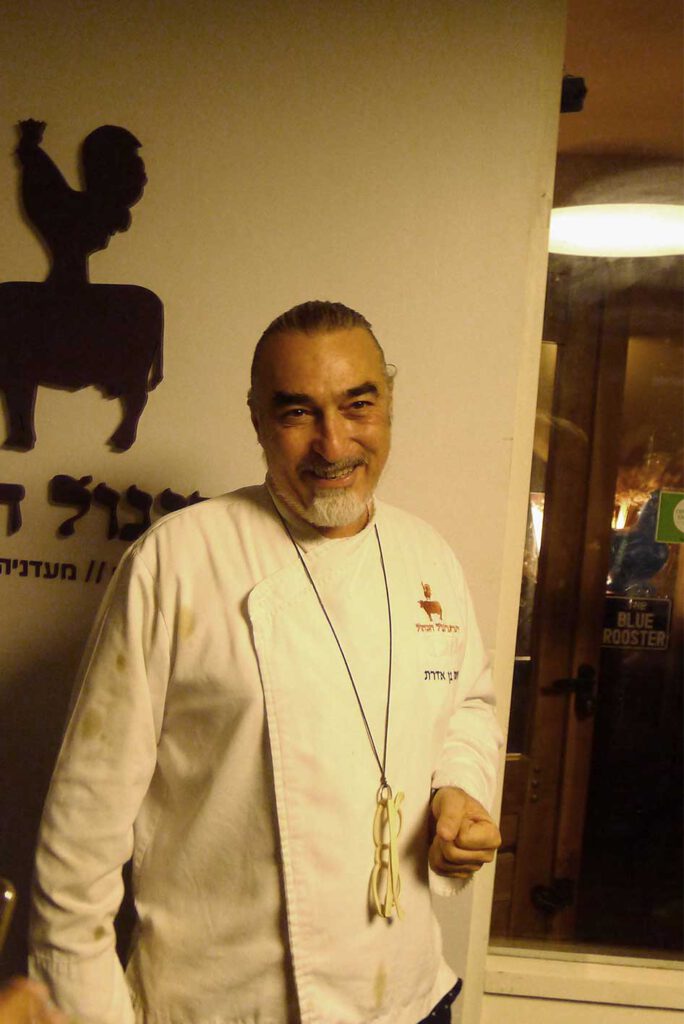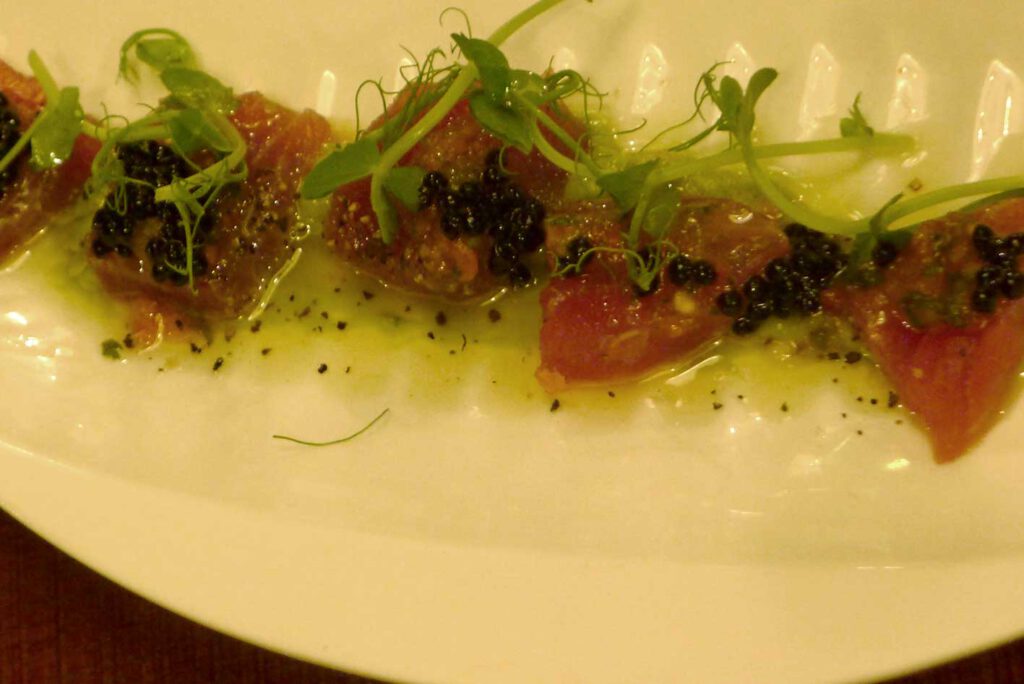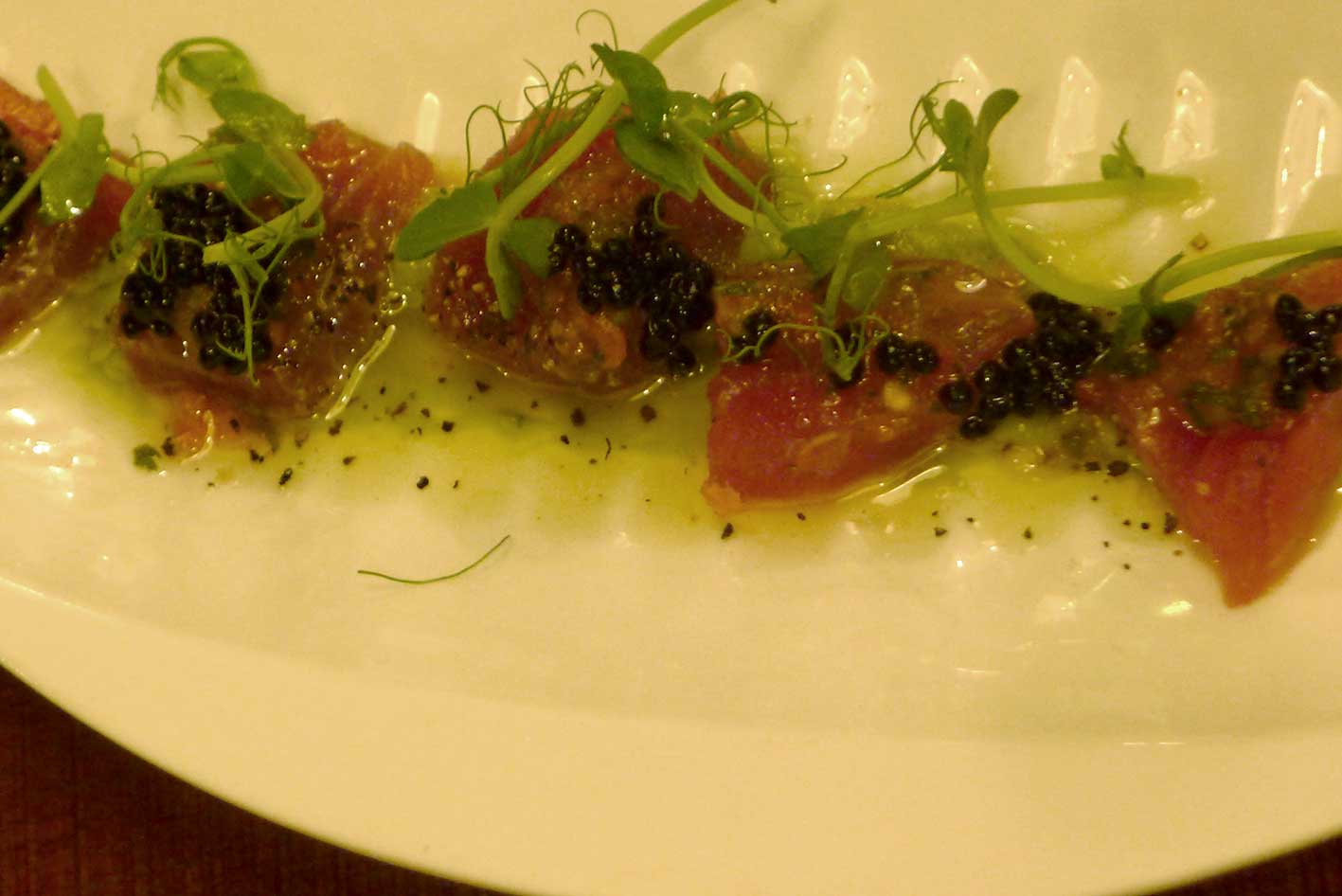 Blue Rooster
Ben Aderet is a master of his art, in the "Blue Rooster" he serves delicacies made from very fresh ingredients of the highest quality. His restaurant is located in the middle of the best Tel Aviv area. Everything is very futuristic, very modern. However, the location looks completely different, inviting, almost familiar.
Of course, nothing goes without a reservation.
My personal recommendation:
Tuna Ceviche, Avocado Guacamole, Olive Oil, Lemon, Tomato Salsa and Black Caviar
the wonderful chicken liver pâté in Calvados, honey, date honey and spiced carrot jam!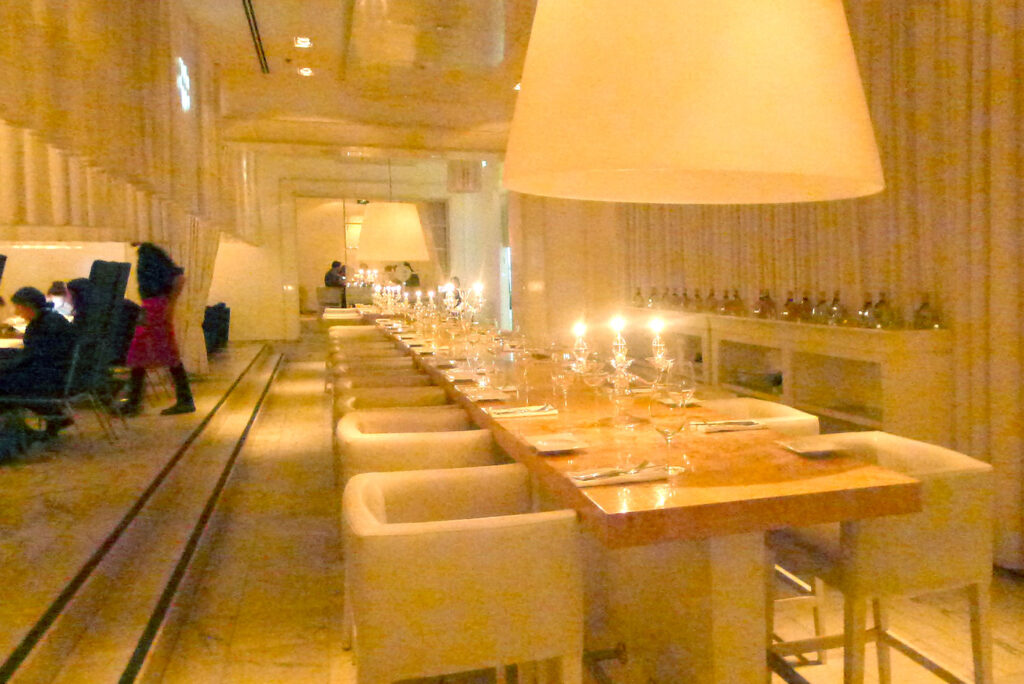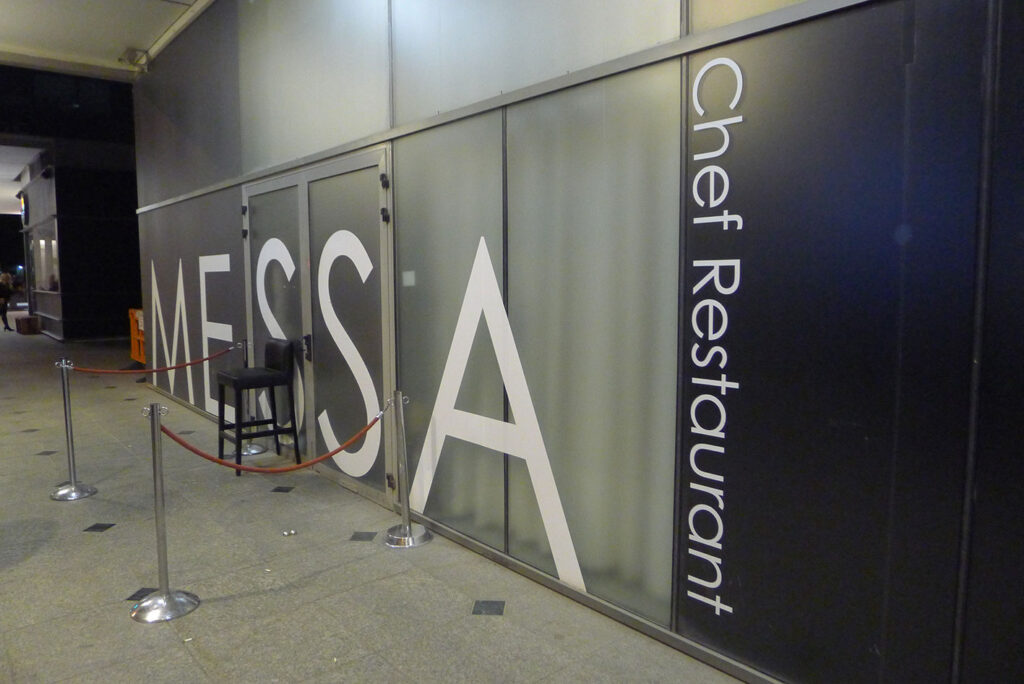 Messa in Tel Aviv
The "Messa" is one of the most prestigious culinary addresses in Israel. Aviv Moshe runs this temple of delight, the boss's handwriting lets us know that he loves French citations, a breeze of Provence is blowing through the kitchen here. The menu includes a sautéed foie gras and truffle ravioli with lime cream. The sophisticated design may seem a little too much, but I liked the concept, you sit at very long tables on high, white leather armchairs and have a perfect all-round view. Maybe one should work on the lighting, it's a bit too dark in general, because you like to look at your plate in full beauty. As Grimod de la Reynière pointed out so aptly 200 years ago:
A simple dish served at a well lit table tastes better than the delicious food you have to strangle in the dark. Light is the Prometheus spark, which inoculates even the most sluggish stomach accelerated appetite
As starter there are roasted Calamares with a Relish-Foie-Grass and a Yuzu Creme. Black Quinoa sets a very lovely accent which definitely belongs to it. The aroma chord doesn't spread very widely, but I don't mind, because the Calamares are excellent and work perfectly with the Yuzu cream, the tongue literally dances over the wonderful culinary creation. Discreet roasted aromas blend with the quinoa and a few garnet apple seeds to create a beautiful little taste landscape.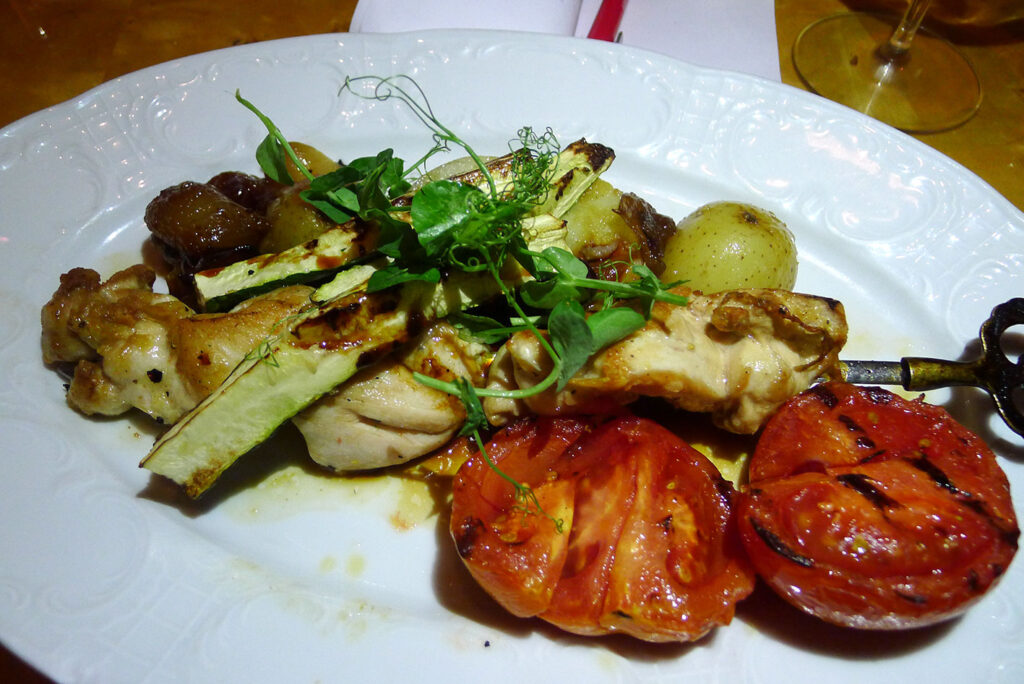 A chicken on a skewer with antipasti and a little onion broth forms the main course. The quality of the poultry is in fact excellent. However, the sweet sound carpet underneath the whole dish is too intense and leaves little room for the composition to be brilliantly distinguished or to break through individual aroma spikes. Unfortunately, the palate is a little bit drowsy here, I would have liked to have had a little more courage, so a dish like this can be prepared with a small amount of chili to achieve more interesting taste curves.
The desserts were good and plentiful, I was convinced by the sorbets, which are extraordinarily fresh and provide a lot of fun with the intensive taste.
Israel is a wonderful destination, a culinary highlight and richly blessed with sightseeing attractions. Country and people are friendly and inviting, I can only recommend a trip, as soon as it is possible, I will explore the country even further, really exciting!
About the State Israeli Tourist Office in Germany:
Whether round trips, city trips, bathing, wellness, active and cultural tours, rental car tours or family holidays: the State Israeli Tourist Office provides information on the various regions, cities and sights in the Holy Land. Israel is located in the eastern Mediterranean and is not more than four hours by plane from most parts of Europe. The country offers a sunny climate, a wide variety of historical, archaeological and religious sites and a fascinating contrast between antiquity and modernity. In Israel, visitors are greeted with traditional hospitality dating back to Biblical times.
more information on http://goisrael.de
[box]
Open Restaurants: The OpenRestaurants will be held in Jerusalem for the second time this November, with a wide range of cultural and multidisciplinary events.  The variety of cultural institutions, cooks, producers, restaurants and local culinary personalities of the capital will be presented.
Guests of the festival are cordially invited to meet with leading chefs from all over the city, to move around the open markets, to work under the guidance of these professionals on the preparation of sophisticated, first-class dishes and to enjoy a little foretaste of a day in the life of a true culinary spirit.
The direct experience with top chefs, restaurateurs, system cooks and grocers attracts thousands of participants. In addition to the rare and unique opportunity to look behind the curtains of this exclusive culinary community, the festival offers a variety of unique events ranging from gastronomy to history. A further aspect: art, design, music, technology, innovation and passion! The founder of the festival, Merav Oven, cordially invites you to this event.
for more information: Open Restaurants Jerusalem[/box] [amazon_link asins='383101843X,3831021082,1785034774,383102894X,3831026912,3831023336′ template='ProductCarousel' store='de-1′ marketplace='DE' link_id='63e9a4cd-dce4-11e7-9310-a70b04f63adb']