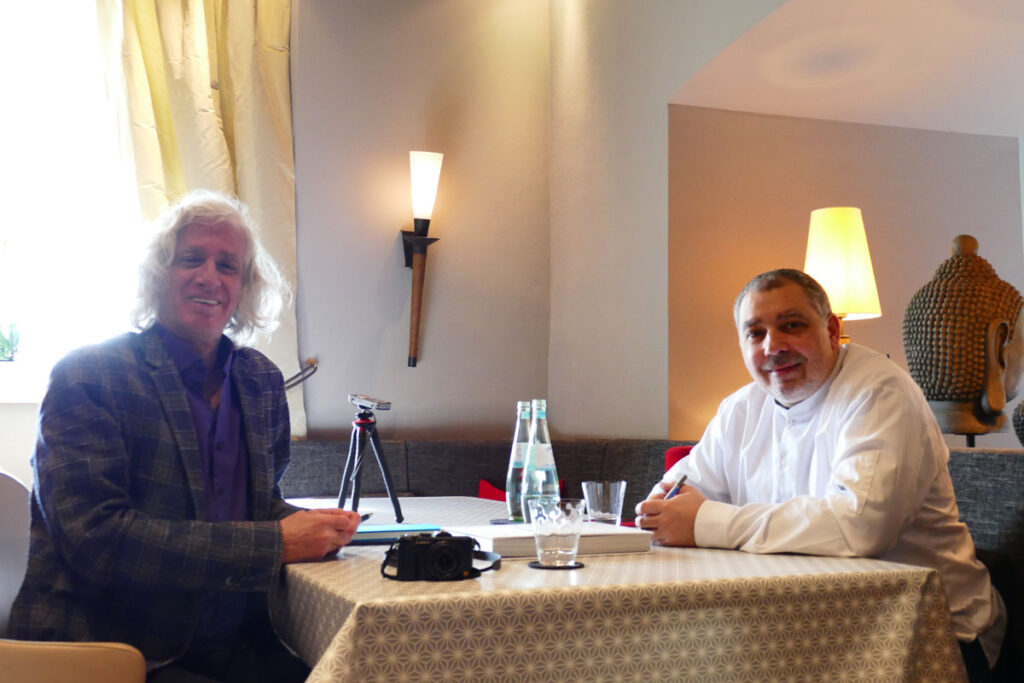 The culinary landscape in Germany has become incredibly exciting in recent years. Creative minds such as Thomas Bühner, Kevin Fehling and Christian Bau have contributed to this.
Christian Bau is one of the most interesting figures in the sector, intellectual and impulsive, creative and planned, innovative and classic at the same time. In 2018, he is named Chef of the Year by Gault Millau, one of the highest awards in the profession!
Christian Bau is a recipient of the Order of Merit of the Federal Republic of Germany and was recently named an
recently appointed honorary ambassador for Japanese cuisine. His restaurant in Perl-Nennig on the Moselle, right on the border with Luxembourg, has been awarded three Michelin stars.
This interview was also performed there.
MG: Mr Bau, have you read the questions yet?
CB: No, I never do. Yesterday I gave an interview about prepayment, cancellation fees and socio-political issues. If you already know the questions, you can no longer answer authentically. Either you answer with an open mind or you don't answer at all. It's like those interviews after Premier League football matches. The players are handed a microphone and each of them says the same thing: "I'm glad we won, an excellent team performance".
The answers are already ready-made by the management, that's not for me.
Either I say something about a topic because I am convinced of it, or I don't, questions from the draft board don't interest me.
MG: You are currently being quoted in the press because you are introducing a prepayment system. Is there already feedback from colleagues or guests?
CB: Last week was the "Night of the Stars", a big ahgz ( general hotel and gastronomy Newspaper) event with over 100 star chefs. We finished 1st, of course there were big handshakes and backslapping from the colleagues there. We are at the top of the pyramid, the guidelines for the industry have to come from us.
We want to be pioneers, and then the others can follow. We react to changes in society, it is a reflection.
In Germany, values are being lost, communication is being lost, decency is being lost, morals are being lost, we have to react to it.
No-shows cause us economic damage.
We often have the first conversation with the guest when he or she is already in the restaurant. Unfortunately, it's difficult realize this meeting before that.

Someone orders a table by mobile phone in January for the end of April, for the weekend. We try to contact this guest, they push us away or give us an office number. When we call, they often say: "The boss has just left".

But we absolutely have to talk to the guest, for example, to find out about possible intolerances and allergies. Of course, we also have to reconfirm the table, which happens at least 48 hours before the appointment, again we are pushed away.
We then try by e-mail, and often receive a brief message shortly before the appointment.
"We are coming, no incompatibilities".
No greeting, nothing at all, this is now common practice, as a host we have to struggle with it.
We don't know if the guest will actually come or if the table is cancelled, they simply can't be contacted.
It's about resources and sustainability, we buy goods that are then not used.
An example: just recently the restaurant is fully booked on a Tuesday evening. On the same evening, a table of 4 cancels, on Wednesday a table of 2, a table of 10 suddenly becomes a table of 7. But the restaurant purchases for 21 guests, a disaster.
But to your question: The colleagues are on our side, there is absolute understanding among the regular guests and I cannot yet judge the situation with the new guests because the system will only take effect starting in March.
Normally I don't read texts on Tripadvisor. Sometimes, however, one is stunned. Two guests complain in detail on this portal about an evening at our restaurant.
Only after four courses and a bottle of mineral water do they remember that they are lactose intolerant. Unfortunately, if they don't inform us, we can't take such intolerances into account in advance. Freedom of opinion is very important, I absolutely stand by that. But we should please treat the host with a little more respect and politeness. This is a socio-political question.