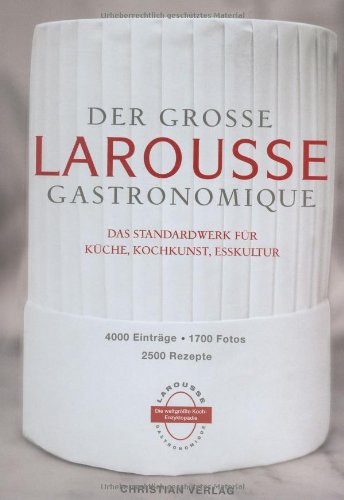 Larousse Gastronomique is the world's classic culinary reference book, with over 35,000 copies sold in the UK alone. Larousse is known and loved for its authoritative and comprehensive collection of recipes. Here it is brought up to date for 2009 in an attractive edition containing over 900 new colour and black and white photographs.

All chapters have been read and edited by field specialists, and 85 biographies of chefs have been added. Entries have also been regrouped for increased accessibility.Originally created by Prosper Montagnè and published in 1938, this essential addition to any kitchen has withstood the test of time and become an invaluable source of information for every enthusiastic cook. Without the exaggeration and extravagant distractions of many of today's cookery titles, New Larousse Gastronomique contains recipes, tips, cooking styles and origins for almost every dish in history.
The Larousse is a ""key work"" of gastronomy, of which the literature includes several, the following small list does not claim to be complete:
Henri-Paul Pellaprat, for example, with his work ""L'Art Culinaire Moderne"", later also published in a German version as "" Der große Pellaprat "".
Grand Livre de Cuisine: Culinary Encyclopaedia, by Alain Ducasse
Paul Bocuse: French Cooking
Auguste Escoffier: "" Le Guide Culinaire""
Ferran Adriá's publications – el Bulli – etc..
A little information:
The first French edition dates from 1938, with a foreword by Auguste Escoffier, and the editorial responsibility at that time lay with the Parisian master chef Prosper Montagne.
Only articles, recipes and photos that had been checked by the Comité gastronomique, chaired by Joël Robuchon, were published in Larousse.
Robuchon is one of the most important international chefs of French origin and runs starred restaurants worldwide, such as l'Atelier in Tokyo, in Las Vegas and in London.
This guarantees a standard of quality that is unparalleled anywhere in the world.
In contrast to Escoffier, which is now somewhat outdated and should be seen more as a recipe book, the Great Larousse presents itself as a universe of gastronomy with all the important recipes, techniques and ingredients.
about the book:
The extraordinary size of the Great Larousse is enough to astonish its proud owner: is this the "mother of all cookbooks"?
In alphabetical order, the reader will find the answer to (almost) all questions in the gastronomic field. Whether you are looking for a concrete solution or simply want to quench your culinary thirst for knowledge, from A for eel to Z for Cyprus, you will find something on1023 pages. The appendix is filled with detailed indexes:
an index of chefs and restaurants
a recipe index
a topic index
In addition, at the end of this fantastic book you will find very useful tips for kitchen practice, there techniques for daily use, such as cooking times etc. are described in detail. Practical: The classification of French wines, the hunt for a Château Haut-Brion (Pessac-Léognan) – Premier Cru – can begin.
Of course, the preparations of the great chefs must not be missing in such an encyclopaedia. You will find Ferran Adrià's Parmesan foam in it, as well as Jean-Yves Schillinger's salad with scallops, celery-apple remoulade, clams and passion fruit vinaigraitte.
You will learn – if you wish – that a ""chapati"" is an Indian flatbread made from wheat flour and clarified butter, and that Bristol is not a city in the southwest of England as you may have mistakenly assumed until now, but of course a garnish served with large pieces of roasted meat.
In future, you may think twice before preparing a Mauritanian langoustine or a green langoustine for a mouth-watering meal.
Don't be afraid to invest in this book, you will never regret it!
This work on French cuisine is clearly one of the best books in the culinary literature.
Either it stands in a well-stocked row of other, equally famous works in one's own home, to deepen one's knowledge in the field of amateurs, or it serves in a restaurant as the last and true authority, for questions of technique and taste, for the sous-chefs, the chefs de partie, or the chefs de cuisine.
buy it on Amazon