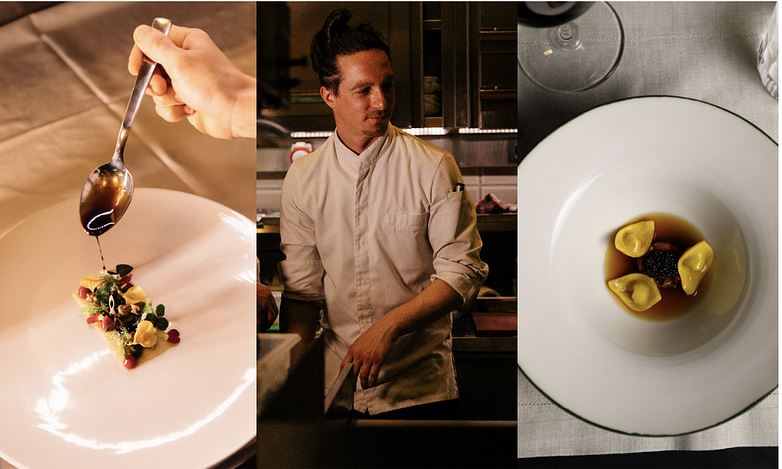 RESTAURANT: LOCALE FIRENZE
LOCATION: FLORENCE
CUISINE: MODERN ITALIAN
The Chef
Simone Caponnetto's path to becoming a chef was far from typical. As a teenager and young man, his only ambition was to travel and adventure, to see the world and immerse himself in other countries and cultures. When he graduated high school at age 18, he left his home city of Florence in Italy and headed for the US, where he began working in a restaurant to fund his travels.
As his journey extended through Australia, S.E. Asia, and India, he continued to use restaurants and bars to help pay for his trips, all the while absorbing everything around him, including the connection between heritage, culture, and food. He also began hearing stories and learning about inspirational chefs and restaurants in Europe.
When he arrived in London, he had gained enough experience to enter the kitchen at Michelin level and found work with Alain Roux. He revelled in the military precision of classic French cooking and now set out to combine his love of travel with that of cooking.
Japan was next under Yoshihiro Narisawa, then home again to Europe and Rome, Monte Carlo, Bologna, and finally Spain with Andoni Luis Aduriz at Mugaritz. Working under Andoni opened his mind to research and experimentation, and his time there proved a catalyst that made him realise he was ready to return home and head up his own restaurant.
Simone joined the team at Locale Firenze as Executive Chef in September 2021, bringing a 21st Century renaissance to the kitchen and cuisine of the historical Florentine building of Palazzo Concini.
The Restaurant
Located in the Concini Palace in the centre of Florence, Locale Firenze is tied architecturally, spiritually, and culinarily to its stunning surroundings. Although the building has been extended and renovated throughout its life, much dates back to the 16th century and beyond. Locale Firenze's cooking reflects its chef, Simone Caponnetto, Italian at heart but with a worldview borne of many years of travel and working in kitchens around the globe. Its inventive bar has been named one of the World's 50 Best in 2022.
The New Menu
Spring is when Tuscany comes to life. Locale Firenze's new menu fully embraces this, from early ingredients, flowers, and wild herbs, to the small sustainable fishmongers, local farmers, and micro-producers providing vital elements for the new offering. Dishes include Confit Duck with duck stock curd and bee pollen or Spinach & puntarelle Salad with herb butter & dry grated bone marrow and Burnt onion plin with miso. One of the new desserts is particularly close to Simone's heart, inspired by a treat of bread soaked in wine and sugar his grandmother prepared for him as a boy. Now reinvented by him as Bread cream, red wine glaze, and red wine sorbet, the dish has pride of place on his new menus. The sourcing of his ingredients in this way makes the roots of his food Tuscan to its core, and Simone has now taken this one step further, working with an old school friend who owns a local small holding. Together they have created a garden solely for the restaurant's use, with the ultimate plan to make Locale Firenze fully sustainable.
New menus offer a choice of à la carte options alongside two tasting menus ACT 1, Salvezza featuring 7 courses, and ACT 2, Peccato featuring 10 courses.