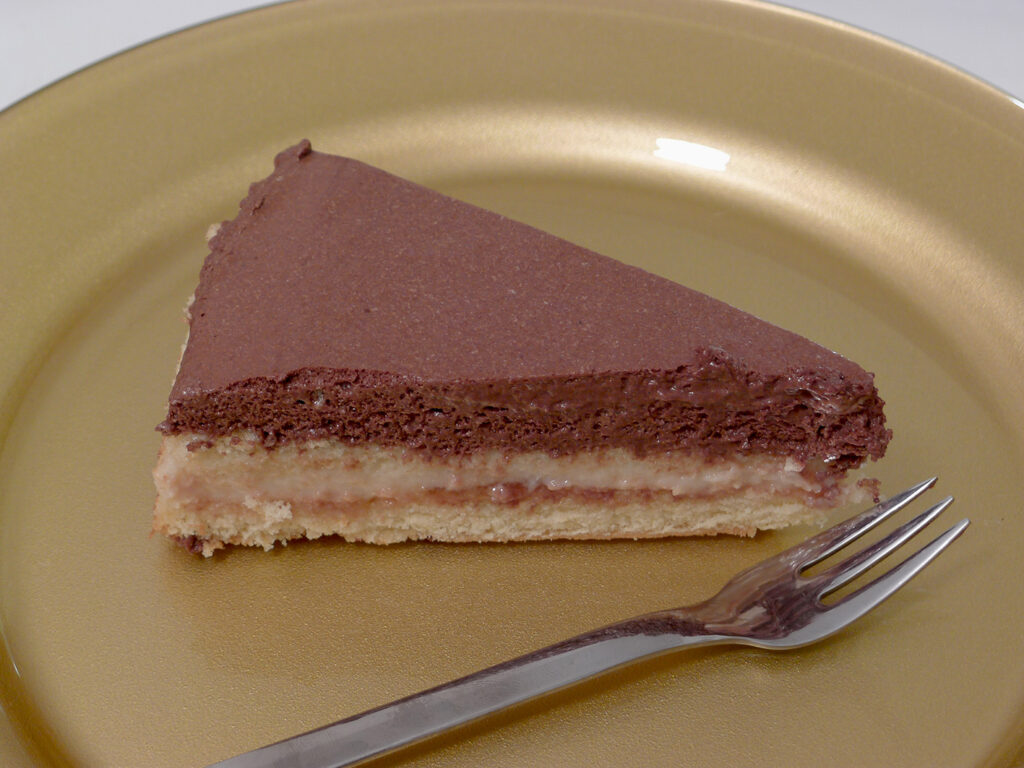 A few words in the first sentence. You can, of course, prepare the mousses without the gelatine, but the cake must then be refrigerated for much longer and not left at room temperature for too long.
Ingredients:

For the Genovese dough:
5 eggs
155 G crystal sugar
45 G butter
155 G flour
For the pear mousse:
3 large sweet pears
100 G whipped cream
4 cloves
20 G sugar
2 sheets gelatine ( or agar agar as a substitute)
For the chocolate mousse
100 G whipped cream
250 G Dark chocolate with 60 – 70 % cocoa content
6 egg whites
1 pinch of salt
40 G granulated sugar
2 egg yolks
3 sheets gelatine
Preparation:
for the dough:
Beat the eggs together with the granulated sugar in a mixing bowl with the whisk, first at low speed for 1 minute. Increase the speed to the fastest setting and beat for 8 minutes. Increase the speed to medium and whisk for a further 7 minutes. The mixture should now have become thick and viscous, surround the whisk or a spatula with a thick layer and draw thick strings.
Clarify the butter in a small saucepan. Sift the flour through a sieve onto the sugar and egg mixture. Gently fold in with the spatula, then gently mix in the melted just lukewarm butter. Pour into a floured tin and bake at 180°C for 30 minutes.
For the pear mousse:
Peel the pears, remove the pome and cut them into small pieces. Steam in a saucepan with the cloves and sugar until soft.
Purée with a hand-held blender and pass through a sieve.
Add the softened gelatine, mix well and leave to cool slightly.
for the Mousse au Chocolat:
Chop the chocolate and place in a mixing bowl. Heat the cream and pour over the chocolate, allow to melt for 1 minute, then whisk on low speed.
Increase to medium speed, add the two egg yolks and whisk for 10 minutes until you have a glossy, smooth ganache.
Beat the egg whites with a pinch of salt and slowly add the sugar.
Pour the ganache (into which the gelatine has been previously incorporated) over the egg white mixture and fold in carefully.
mount the tart:
Remove the Genoese pastry from the round cake tin, cut evenly in the middle with a long knife. Fit a cake ring and spread the base evenly with the pear mousse. Leave to cool slightly, then place the 2nd half of the pastry on top and spread the chocolate mousse over it. Leave to cool for 3 hours.