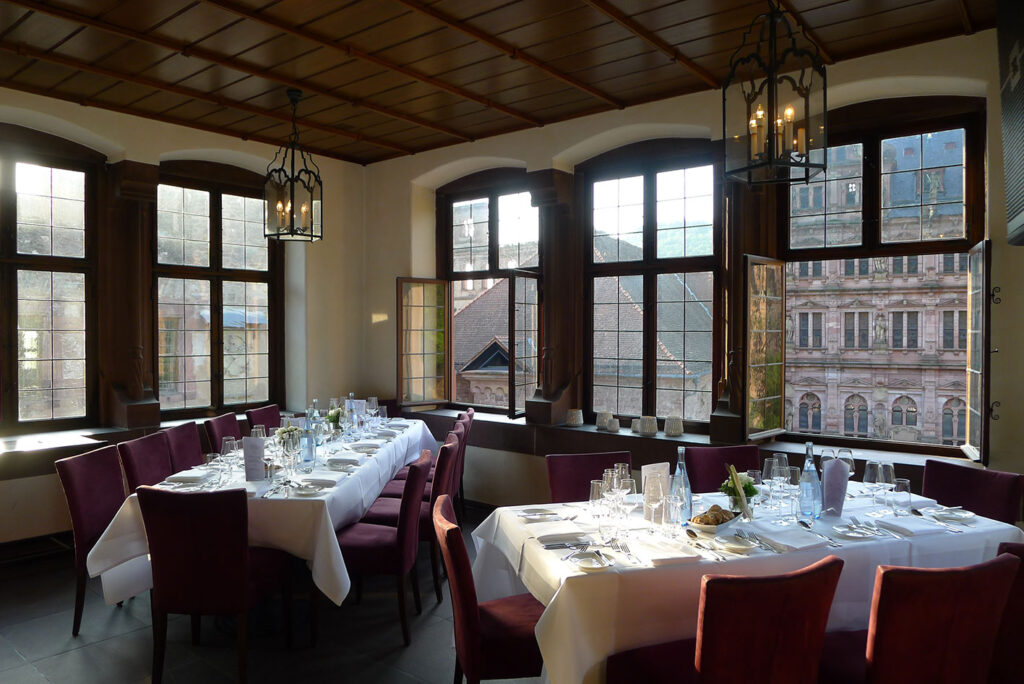 Gourmet-Festival, 21.04. 2018 at Martin Scharff's restaurant
Prelude
oyster-oyster oyster
Excellent reception in front of a majestic scene in Heidelberg Castle. A well chosen oyster trio of French and English origin caresses the palate and sets accents. Not every day we get the noble mussel from the wild catch, Martin Scharff serves us fresh Maldon oysters, they impress with their fine salt aroma with nut note. The Laurent-Perrier "La Cuvée" fits perfectly with this, fresh citrus fruits, vineyard peach, clear and cold like the water off the English coasts. Everything is cool and in good weather. Easy-going, classic, elegant.
finger food
Finely divided layers are joined to interesting structures. Sensory cabinet pieces, great texture, exciting! Good snacks are reserved for excellent cooks, too often classic dishes are cited without thought in the complicated miniatures. But not today and here in Heidelberg. Clear star cuisine, sometimes slightly oriental, sometimes cracking in the mouth, wonderful. After all, almost 100 years of Michelin stars are waiting for us, madness!
Jens Bomke, Melted calf's tail cannelloni and sweetbreads on kohlrabi with green apple and sour clover
23 years Michelin star, institution in Münsterland, local patriot, regional cuisine "living off the lobster truffle sky", his fitting motto!
Paper-thin cannelloni, calf's tail stewed at low temperature, long and on the minute. Light aniseed note in a green element. sweetbread melts softly. Green apple in micro cubes and as gel. Enchantingly crispy kohlrabi, a vegetable-negligee, to munch on! Morels hardly noticeable. A touch of Demis-Glas underlines the show with a light touch. Beautiful composition. Post-Nouvelle-Cuisine, a horsd'œuvre comme il faut.
Wine:
2012 Ürziger Würzgarten Riesling Grosses Gewächs Reserve trocken, Weingut Dr.Loosen
2014 Halenberg Riesling -R- Große Lage, Weingut Schönleber
Wonderful wines! Nevertheless, I was personally a little overwhelmed throughout the entire menu – besides the culinary tasting – to judge the interaction of the dishes with two wines per course. Either I'm at a wine tasting, where I can concentrate entirely on the fine wines, or there's only one wine per course, as confident in style as Martin Scharff is, that shouldn't be a problem.
Otto Fehrenbacher, scallop minestrone with shitake mushrooms and basil
Fehrenbacher introduces himself as a Heidelberg fan, his audience loves him, he is Francophile through and through.
Fehrenbacher's vegetable creation moves impressionistically between minestrone, bouillabaisse and dashi.
Provence rises in the nose, I see the lavender blooming. Broad aroma spectrum, amber shines through the porcelain, quite light materia. Delicate and sensitive implementation. A Pepper-Julienne can not choose between a texture dimension, planned or coincidence? Basil only in decay, Shitake provides a gentle roasted aroma with garlic note, great! A clove gets lost and irritates the tongue, is that erotic? It's a lot of fun and is definitely poetic.
Wine:
2017 Sauvignon Blanc "S" Leimener Herrenberg, VDP Erste Lage, Weingut Seeger
2015 Graacher Domprobst Riesling Grosses Gewächs trocken, Weingut Dr. Loosen
Martin Scharff, Breton sole roulade with langoustinos on young peas with Schwetzinger asparagus and bisque with oriental mountain herb
Slaughtered lambs himself in Wales, super cook, stylish!
Yin and Yang concept from bisque and a pea puree, red-green. Langoustinos with a loose tempura crust, excellent quality. Bisque made of shrimp shells, imaginative, umami, successful, free of conventions, just Scharff. The sole sparkles with the pea puree, the bisque pokes again and again. Fine chili threads irritate us a little bit. The asparagus looks at me a little at a loss. The oriental mountain herb provides the aromatic weather light, the plate is romantically staged, very aesthetic, delighting the soul.
Wine:
2016 Astheimer Chardonnay, Weingut Fürst
2004 Riesling Spätlese, Weingut Vollrads (nicht im freien Handel erhältlich)
Bernhard Reiser, Two varieties of Rouen duck with wild broccoli muffin and raspberry-pepper sorbet
Reiser wants to show that even a duck can get much more out of it than many a amateur thinks, he is right!
Duck smoked and roasted. Clubs filled with truffles. Cold-fine versus savoury-warm, ventured, works only with precise tasting, but then it is terrific! Only in combination with the raspberry-pepper sorbet does the broccoli muffin reveal its secret, the dish has its own personality.
In the Sustain for me a little bit too much barbecue, stays too long on the tongue. A pinch of restraint in the smoke and the piece is perfect. Technically demanding, plays with temperatures.
Wine:
2014 Frühburgunder "R", Weingut Fürst
2015 Frühburgunder "R", Weingut Seeger
Bernd Siefert, honey-rosemary parfait with apricot salad, cucumber and sweet pesto with balsamic caramel and saffron vinaigrette
Perhaps the best pastry chef/pastry cook in the world
The art lies in the lightness of the performance, a theorem that applies to all creative moments. Siefert masters the aroma claviature, there is no doubt about that. Such a dessert is not available à la carte, it can only be created within the context of such an event.
Apricot and rosemary have their own entrance, the apricot is shy and timid, a young soprano, a debutante, for the first time in front of a large audience. The rosemary, on the other hand, with a proudly swollen chest, an elegant baritone, well aware of his role, yet stylishly restrains himself, skillfully caresses himself! Suddenly, out of the purgatory of ideas, the garden cucumber in a mixed-pickles manner appears, mozartesque, a Papageno, always ready to mix up the scenery, amusing, ingenious, virtuoso. Honey and saffron recite in the background.
If something is good and interesting on the plate, you are encouraged to repeat it. It increases our desire. Musically, Beethoven proves this in his 6th Symphony. The violin motive from the 2nd measure of the introduction repeats itself 72 times without ever getting weary of it, over and over again we hear it without getting tired of it. Bernd Siefert masters the art of repetition, he knows how to use this effect as a cast in the culinary score. Fantastic!
Wine:
2013 FRÜHLINGSPLÄTZCHEN Riesling Auslese, Große Lage
2007 Riesling Auslese, Weingut Vollrads
final chorus
Many thanks to the affineur Volker Waltmann from Erlangen, his cheese selection was sublime and dignified for such an event. The exclusive selection was convincing all along the line, I myself could not be moved away from goat cheese. Damn good!
A very good event. I wish Martin Scharff and his friends continuing success, this is the best advertising for the culinary arts! The winegrowers were all there personally, what an effort! Patiently they have explained their excellent wines to us in an understandable way, thus opening the doors to our perception.