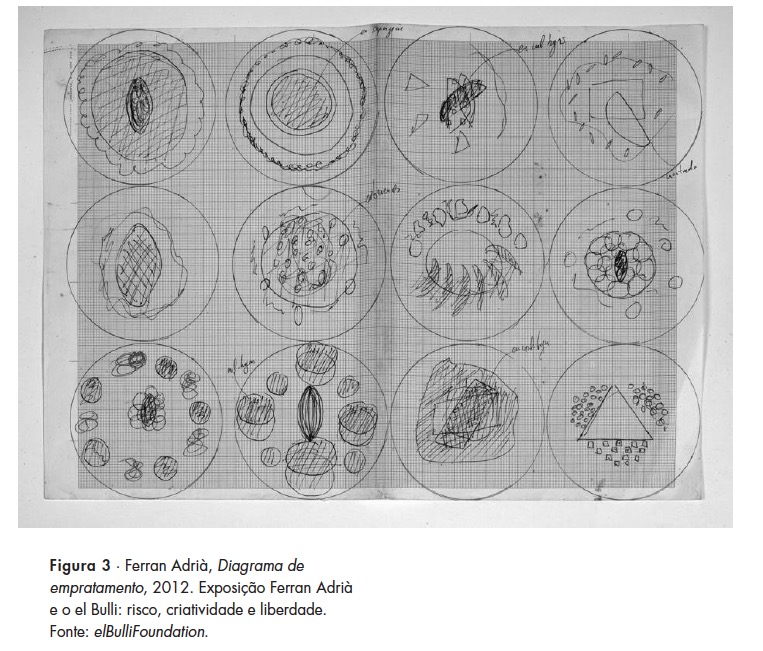 [typography font="Abril Fatface" size="20″ size_format="px" color="#e1cca1″][dropcap]S[/dropcap][/typography]ince the creation of molecular cuisine in the 1990s, the gastronomic avant-garde has been linked with a term of art. The pioneer and creative mind of the movement is Ferran Adrià, who introduced innovations in his restaurant "el Bulli" in the 1990s, which he then uses to sweep away traditional techniques and ideas.
The focus of the considerations is the creative process, Adrià does not want to copy, but to form his own complex structure from science, art and design as well as a sensual dimension. A new culinary language is being developed to describe his thoughts precisely.
However, it will take more than a decade for the Spanish chef's ideas to manifest themselves in the art world, and he will finally be recognized in 2007 when he and 100 other artists are invited to Documenta 12.
At that time, the artistic director of Documenta, Roger M. Buergel, wrote:
I invited Ferran Adrià because he created his own aesthetic.
that have evolved into something very influential in the international scene.
That's what I'm interested in, and I don't care if people call it art or not.
It is important to say that artistic intelligence does not manifest itself in a particular medium, that one does not only manifest art with photography, sculpture painting, etc., not even with the Cooking in general; however, under certain circumstances, it can also be art.
[hr]
«Creativity does not mean copying»  : the origin of the «elBulli-Revolution»
It all began in 1987 on the Côte d' Azur. Ferran Adrià is on the journey with some of his colleagues to be inspired by the best chefs in the sector. The group lives in the Negresco in Nice where Jacques Maximin runs his restaurant "Chantecler".
A traveling journalist asks the master chef what creativity means to him.
Maximin replies: "Creativity does not mean copying".
Perhaps this is one of those moments when something improbable happens, one of those moments when destiny throws something down on someone. Adrià immediately realizes the meaning of these words and decides to change his concept completely. He no longer wants to draw his knowledge and ideas from cookbook classics, or to tie himself to conventional techniques. In order to develop his own style, he radically and definitively breaks with tradition, all ballast is thrown away.
Development of a new language
Adrià and his team begin by meticulously capturing every step, writing notes and documenting everything in photographs and drawings.
First of all, the "el Bulli" explores the reinterpretation of classical Spanish tapas.
An example from this phase: the «granizado salado de tomate con orégano fresco y manjar blanco».
The central element of this tapa is the tomato pureed with fresh oregano and then frozen. The mass is mixed in the freezer every half hour to achieve a brittle consistency in the final state, in effect a sorbet. A kind of almond milk pudding forms the first layer of the construction. Typical Mediterranean ingredients are presented here in a first deconstruction experiment. Adrià defines deconstruction as a symbiosis of salty and sweet elements.
At the same time as the large degustation menus,"el Bulli" develops the "el Bulli Catering", a great challenge, not infrequently more than 1000 plates are served to the guests on one evening.
Espuma de judías blancas con erizos
Perhaps one could describe one of the quintessences of molecular cuisine with the desire to eat air. Adrià is fascinated by the texture of the foam. An Espuma can combine two characteristics that are interesting for the culinary art: pure aroma and lightness.
The syphon in which soluble gas (usually N2O) is dissolved under pressure in the liquid to be foamed is an ideal tool for the production of Espumas. Due to the pressure in the siphon, the liquid can be taken out through the spout, the dissolved gas expands and the liquid foams up – creating the Espuma. Xanthan is used to stabilise a warm foam, cold Espumas are strengthened with gelatine. In order to realise its concepts, Adrià uses the means of industry.
The Espuma de judías blancas con erizos (white bean foam with sea urchin) was created in 1994, a culinary revolution.
Tomates en texturas, 1996
Ferran Adrià about tomates en texturas:
In the elBulli we thought about the limits of gastronomic experience, so we also had to think about life, knowledge and creation. We cooked to build new roads, some were small forest roads, some were big highways. Until 1996, haute cuisine was directly linked to expensive products: Goose liver pâté, lobster, caviar. Who would have ever ordered a tomato in a first-class restaurant? That year we served our creation: tomatoes en texturas, the success was overwhelming! With this dish we wanted to prove how to take a simple product to a higher level with creativity and the appropriate techniques.
From Gargouillou to «menestra de verduras en texturas»
Adrià also gets inspiration from colleagues, for example at Michel Bras in Laguiole. In 1980 Bras invented his Gargouillou, a highly poetic dish that is an homage to nature.
This Gargouillou is the manifesto in the kitchen of the French autodidact (by the way, Adrià is an autodidact) on the one hand for its evolutionary dimension, and on the other hand for its expressiveness and plasticity.
Michel Bras describes his dish:
Color balance, textures, flavors, tones. I want it to vibrate, it's spring, everything is alive. It's like a sharp-edged jazz piece, it's tonality, it bounces off, it starts all over again.
Adrià takes up the idea in his own way, creating the menestra de verduras en texturas.
It consists of an almond ice-cream, beet aspuma, tomato puree, peach sorbet, basil gelatine, maize mousse, avocado and salted almonds. Nature, which also plays an important role in the poetry of Ferran Adrià, is deconstructed, structured and reassembled into a new culinary object. A ingenious approach.
Deshielo 2005
Ferran Adrià:
Decontextualization, irony, spectacle and performance are completely legal as long as they are not superficial, but respond to a gastronomic reflection or connect with it.
Around 1995 the basic culinary development is completed, Adrià is intensively occupied with the textures, the sensory system becomes more complex, the aromatic exclusivity is evident. It is no longer just about the individual elements, but rather about coherent, larger structures. We jump into the year 2005, Deshielo 2005 is created and with the Paco-Jet different ice conditions are created, which all have a filigree structure. The creation consists of an octopus ice cream, herbsweet ice-cream powders of caramel, liquorice and coffee, a sorbet of pine nuts, wafer-thin crispy sugar flakes, flowers and herbal pieces. A variation of flavour intensities, consistencies and temperatures. Clearly a futuristic work, a small forest of micro vegetables, sprouts and flowers is allowed to grow on the plate.
Cook Art
In the 1960s, Daniel Spoerri discovered a direct connection between art and cooking/food with "Eat Art". His tableaux-pièges are 3-dimensional culinary still lifes, fixed with glue and conservatives. Cancelled meals are shown.
Wikipedia: The intention is to represent with various formal means a part of the real everyday world..
This is, of course, very abbreviated, Spoerri's aim at that time was not to use the culinary to question the culinary, but to use the culinary to question the art and its limits.
The French autodidact Michel Bras introduces an important vocabulary: Nature.
Bras explores the question of the terroir and its roots in order to give meaning to his culinary creations. 1991 he writes:
The term natural cuisine has a special meaning. In every creation there are memories, feelings, emotions, moods and impressions from the close connection with the country. But this only works in the midst of my family and my landscape, in the Aubrac.
In the elBulli, Ferran Adrià and Juli Soler develop a different approach, which can be defined by an experimental culinary practice and the evaluation of "permanent creativity". All creations in the elBulli are ultimately the result of a collective effort. The elBulli team does not follow a master, it favours the development of a creative practice instead, which of course does not mean that it would have worked without Ferran Adrià.

Adrià has never copied, but he has quoted, the example of Michel Bras' Gargouillou, cited here, is exemplary. One discovers a paradox in the development of the elBulli: on the one hand, the obsession to constantly invent something new and throw traditional techniques over the boards, on the other hand, the tendency to reinterpret traditional dishes. The menestra de verduras en texturas is a citation, is not a copy, that makes the difference, Adrià masters the "art of citation".

Through a concentration consisting of a subtle mixture of colours, tastes and textures, his menestra reinforces the idea of the "spirit of Aubrac" in the Gargouillou of Michel Bras.
The dimension of the "terroir" is reinterpreted for the Spanish soil, very subtle, with a light saffron flavour.
There is no doubt that cuisine has established itself as an art form in the institutions.
Michel Bras with his poetic approach to nature and Ferran Adrià with deconstructivist ideas and an almost boundless creativity, both of them have taught them.
Cooking can be art, modern interpreters include Christian Bau, Daniel Humme and Gaggan Anand. With his research and projects,"elBulli" has paved the way to a new sensory and artistic dimension.
Cooking is a language that expresses harmony, creativity, happiness, beauty, poetry, complexity, magic, humour, provocation and culture.
Ferran Adrià, elBulli
[amazon_link asins='B077PWFWJG,B01BJ2X8II,1468308998′ template='ProductCarousel' store='uk-1′ marketplace='UK' link_id='66a8d160-1565-11e8-9a3d-45541157fcc3′]