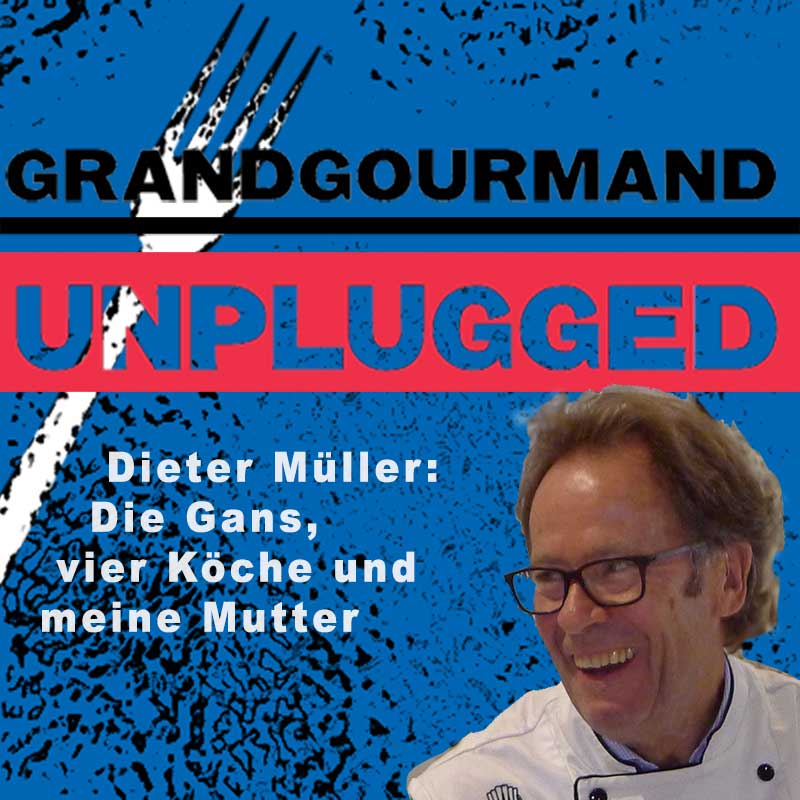 In the third and last episode of Dieter Müller's UNPLUGGED, the top chef talks about the value of the KDJ competition, about current developments in the gastronomy scene, about colleagues and about his work on the MS Europa, enjoy it!
GG:
With Grupo Caterdata, Nuria Roig de Puig has established the KDJ and PDJ competitions in Germany, Austria and Switzerland. With great ideas, passion and emotions, she has created a new format that has gained an excellent reputation. Again and again she finds fantastic locations, all of which exude a very special flair.
Have you recognised the potential of the competition right away, or was there a dash of adventure when you took over the presidency in 2011?
Dieter Müller:
I was at the competition in Barcelona, the atmosphere that passed from the audience to the chefs, the enthusiasm that convinced me.
In Lerbach I served an Amuse Bouche menu for a Spanish delegation with Nuria Roig de Puig, they were thrilled. My first thought was to support the youth. Nuria didn't have to convince me for long, the decision was made quickly.
The competition is new and offers young people a great platform, the special thing is that it is possible to practise beforehand together with a partner, in a higher sense KDJ is also a team competition.
The competition is presented very professionally, 10.000 € for the first place, the second place is endowed with 3.000 € and the third place is still worth 1.500 €, in addition to the sponsor prizes, this is a fairly big number.
Then there is this fantastic award ceremony, at the moment there is no comparable competition. Of course, the Bocuse d' Or is an old-fashioned, important competition, but in my opinion not up to date, a classic, with the famous showpiece at the end. Of course, the Bocuse d' Or is very important, it is not so easy to win. However, our claim is to have the dish served as it is made, just as it would be served to the guest.
GG:
In your opinion, where do you see the star gastronomy in Germany in an international comparison? Are we as creative as the Spanish, for example, who find new playgrounds in either reduction or pure aroma, often with show elements?
Dieter Müller:
Spanish cuisine is important for journalism, Ferran Adrià has created something new, very important for the development of gastronomy. My Amuse Bouche menu came right after that. At that time, the "Feinschmecker" wrote:"Finally a German chef doing something new.
Wolfram Siebeck wrote a review at the time, by the way, he was also the last guest when I quit in Wertheim, he absolutely wanted to taste a "Dieter Müller kitchen" again.
I have always appreciated Siebeck very much, together with some of my colleagues I was with him at Malberg Castle one day. At that time he cooked together with his wife for us cooks, there was a lot going on in the kitchen, the pans flew through the air, I was allowed to make sure that the wine cellar was empty,
For Siebeck, the Amuse Bouche menu was an idea of the century. Incidentally, the industry reacted very quickly and produced mini tableware.
.
GG:
Would you tell our readers about your favourite dish?
Dieter Müller:
Spaghetti with homemade tomato sauce, fresh coriander and chilies or fried prawns. At home I like to eat in a simple way.
From time to time we also go out for dinner, recently I was at Testuya Wakudas Restaurant in Sydney, Wakuda played in the movie "Die Gans, vier Köche und mein Mutter".
A Belgian filmmaker named Piet Eekmann has made it. Pierre Gagnaire from Paris, me, Ferran Adrià and Testuya Wakuda from Japan were part of the film.
The film takes a look behind the scenes of the top chefs, each restaurant had a shooting time of twelve minutes. In the end we were on the farm with the mother, who also prepared the goose. It was August, and the animal didn't have much on its bones, but it was a great experience (editor's note: see footnote*).
I know the great chefs all personally, with Ducasse I cooked in Los Angeles at an event for 200 guests, he had the starter, I had the main course, a pot-au-feu of seafood with chili and lemongrass. For such moments you love this profession, moments like these cannot be compared to Michelin stars, this is something really great.
I also had a guest performance at Bocuse once. He quickly becomes tired and felt asleep at the table. Suddenly a journalist appears in the restaurant, Bocuse wakes up by magic, pulls up his hat, which is almost half a metre long and has a charming conversation with the press.
In Lyon, he once persuaded a market woman to dance on the table, she complained that all good chefs were going to buy anywhere but in the market. The next day we read in the press:"Market women are doing so well that they dance on the tables!"
GG:
Do you think that a good meal can have an aphrodisiac effect?
Dieter Müller:
Yes, clearly! When you discover something new, incredible feelings of happiness arise, these are the moments you rarely find, but sometimes they are given to you!
It can be anywhere, with any chef, the Michelin-Star doesn't matter.
GG:
Culinary memories are extremely lasting and accompany us throughout our whole life, our subconscious mind stores fragrances and aromas.
Wouldn't it be an idea to refresh our memories with culinary delights?
Dieter Müller:
We've been doing this for some time already, right now I'm preparing a project in Berlin. German cuisine, a kind of amuse bouche, only bigger. The guest should have the choice at the table, relaxed, light and modern. Old dishes will be re-launched and we will pay attention to a good price-performance ratio.
Many young people are supposed to go there to eat, as I experience it all over the world.
Incidentally, there will also be flame cake variations, everyone can decide what they want to eat, that's entertainment, that's an experience.
It should be like the French or the Italians, who sit together for two or three hours over lunch and enjoy eating and living together, often very simple cuisine, prepared with joy.
For me this is a bit of the future, you are happy, eat together, drink together. Fresh cuisine, also affordable for a younger audience.
The scene is very diversified, there are excellent autodidacts who cook with much more heart and passion, who make a dream come true. Often they even give up a good job to run a small restaurant, which is something really special. There is a variety for every taste.
The times when it was so stiff in the restaurants, they are over.
GG:
Since 2010 there is again a restaurant "Dieter Müller" on the MS Europa. You serve highlights and classics from your wonderful repertoire.
Do you ever send a plate to the bridge? Or is that too risky, because there the concentration could drop and the ship could run into an iceberg or land?
Dieter Müller:
I have to say: The captain is usually a fan of my cuisine.
It's already happened that I brought something up, that's a bigger team, but you can drink a soup while standing up there on the bridge.
For example, the "Capuccino of curry and lemongrass", a centenary dish, is always expected from the guests.
When I do show cooking on the MS Europa, 250 guests come to watch over my shoulder and get their food and even get the recipe.
Of course the captain also comes to the restaurant Dieter Müller from time to time.
GG:
Dear Dieter Müller, Grandgourmand would like to thank you very much for this very detailed conversation
Dieter Müller UNPLUGGED episode 1
Dieter Müller UNPLUGGED episode 2
Interview als PDF downloaden…
Cappuccino of curry and lemongrass, fried scallops
5 dl poultry stock
2 dl cream
salt
2 dl coconut milk
5 cl Noilly Prat
6 cl white wine
1/3 leeks
1 tablespoon curry powder Madras
1 Msp. curry paste green
5 lemongrass sticks, finely chopped (Asia shop)
1 apple (Granny Smith)
1/2
1/2 banana
1 Bd. parsley, curly
20 g butter cubes, cold
salt
scallops
4 pcs. Scallops, ready to cook
1 cl rapeseed oil
1 pinch of curry salt (1 teaspoon curry with 5 teaspoons of salt)
4 wooden skewers
Preparation
Pour the finely chopped leek and lemongrass into hot butter. Add Noilly Prat and white wine, reduce for 3 minutes. Fill with poultry stock, simmer for 5 minutes, then add cream, coconut milk and curry, let it simmer for another 10 minutes.
In addition, puree the pitted apple, peeled miniananas and banana with leaf parsley in a mixer and add to the soup.
Let it simmer for another 5 minutes, then pass through a fine sieve and mix in the butter while still hot. Season to taste with a little curry paste and salt.
Arranging
Season the scallops with curry salt and fry them in rapeseed oil for about 45 seconds each side, then put them on wooden skewers, spread them in or on cups. Fill up with foamed soup and serve.
Kochen und Genießen
Mit Sternekoch Dieter Müller
Mit diesem Kocherlebnis möchte Dieter Müller Sie in eine Welt des kulinarischen Genusses entführen. Verbringen Sie mit ihm einen Kochtag in der ganz privaten Atmosphäre bei Müllers im schönen Odenthal, im Bergischen Land, ca. 20 km von Köln entfernt.
Sie kochen zusammen mit dem Sterne-Koch ein Menu, das sich an den Produkten der jeweiligen Jahreszeiten orientiert und seiner Kochphilosophie entspricht: aromenreich, modern, zeitgemäß, mit frischen Kräutern. Er gibt Ihnen Tipps und zeigt Ihnen Tricks. Sie lernen beispielsweise die Zubereitung von Fonds und Saucen, er erklärt die eingesetzten Produkte, schult in Warenkunde und den Umgang mit Messern und Schneidetechniken.
Und so gestaltet sich Ihr Kochtag: Nach einer Besprechung des Einkaufs, der Rezepte und des Menus wird jeder Gang von Dieter Müller persönlich vor- und zubereitet – natürlich mit Ihrer Hilfe. Mit abgestimmten Weinen genießen Sie dann das Menu, umsorgt von Birgit Müller, an einem festlich eingedeckten Tisch. Übrigens: Wer meint, er könne nicht gut genug kochen, dem möchte der gebürtige Südschwarzwälder die Hemmungen nehmen und zeigen, wie viel Spaß es macht gemeinsam am Herd zu stehen. Kochen und gemeinsames Genießen, sich auszutauschen in einer Runde "Gleichgesinnter" verbindet ungemein. Zumal Ihre exklusive kleine Runde aus maximal 8-12 Teilnehmern besteht.
weitere Informationen auf http://www.dietermueller.de/kocherlebnis/
*The goose, four cooks and my mother
In all cultures, it is women who are found at the domestic stove. Looking at upscale gastronomy, the picture changes. The art of cooking is largely reserved for men. In this documentary from 2003, Piet Eekmann explores this matter and introduces four masters of their craft: The French chef Pierre Gagnaire, the German Dieter Müller, the Spaniard Ferran Adrià and the Japanese-born Testuya Wakuda. All four of them are invited to dinner in his mother's house. There is green goose and goose and a lot of information about the art of cooking.