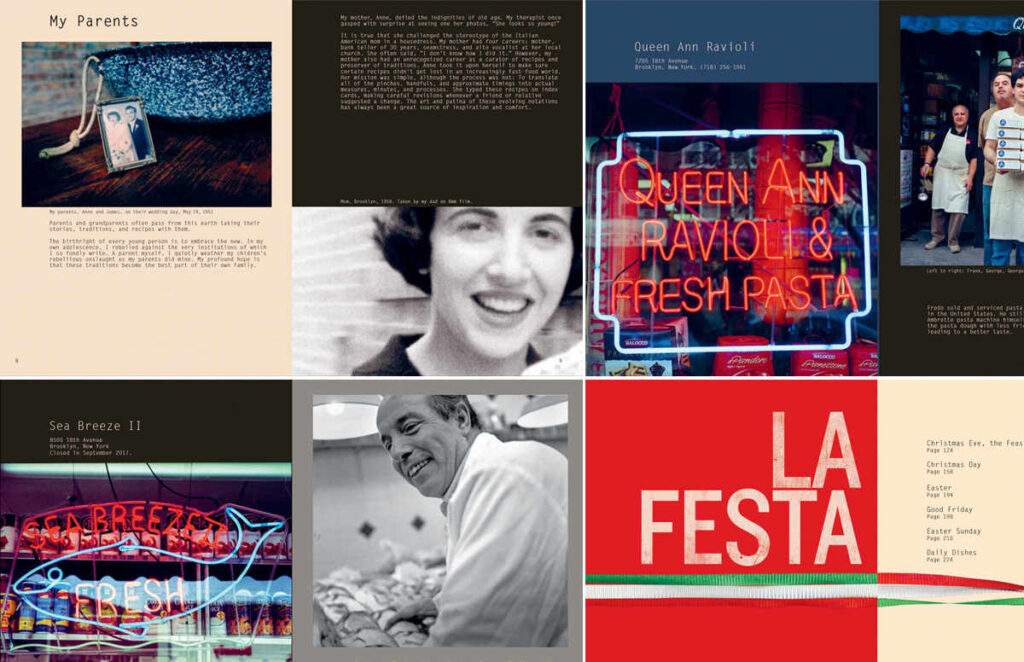 Feast of the seven fishes, Daniel Paterna
Feast of the seven fishes by the renowned powerhouse Books publishing house is not a cookbook in the conventional sense. 
Daniel Paterna, a cook from the Italian-American immigrant scene, describes the traditions of his family and examines his own cultural DNA.  We sit together at a big table, drink wine, eat something delicious and talk about God and the world.
Paterna portrays life in Bensonhurst, a neighborhood in New York's Brooklyn Quarter. Good food is still appreciated there today.
The book is full of wonderful photos from the late 50s until today, almost all of them are still taken with an analog camera, many of the prints are from 9mm film strips, the book has a very special look. It is a time travel to the Brooklyn of the 70s, very personal, very emotional, very exciting!
Many things remind me of my own story, because just like me, in his youth Paterna spends many hours in mother's kitchen, where he absorbs the aromas, the smells and the ingredients.
Bensonhurst is not only home to Italian-American cuisine, the area is still a melting pot of cultures. In the immediate neighborhood, for example, you can try the specialities of the Jewish restaurants that serve particularly refined fish.
On page 25 there is the table of contents, in total, there are 14 chapters that are all very appetizing to read. They are called, for example: I Negozi: The Shops, Papa Pasquale, United Meat Market, or Sea Breeze II.
In these shops you can find everything your heart desires to cook the perfect pasta, you can buy the sweetest tomatoes or rare fish. Over time, many of these owner-operated shops have had to give way to the big stores, but they still exist, these wonderful shops where you can get almost anything from excellent sardines to fresh ravioli (Queen Ann Ravioli, 18th Avenue).
Some pages are dedicated to the Italian bread baking tradition, the Royal Crown II Paneantic is mentioned there. The shop has a long history, Paterna writes:
I remember the day may dad first brought home a loaf of Paesano bread. The expression on his face was that of a man who had just won the lottery.
I love the Italian cuisine, it is the best ingredients that make a simple but excellent dish. 
On page 74 you can find the recipe for the
Salsa di Pomodoro Cruda
You need fresh tomatoes, garlic, the best olive oil, basil leaves, salt, black pepper, some freshly grated pecorino cheese and a good dry pasta. Salt and heat turn the tomatoes into a fruity fresh sauce that tastes delicious and melts in your mouth. Try it, this is how summer tastes!
Lioni Latticini (7819, 15th Avenue) is producing an excellent Mozarella since the 80s.
Michelina's engaging personality inspired me to unofficially adopt her as "mamma", as she reminded me my own.
Paterna about this woman who, by the way, is one of the largest producers of Italian soft cheese in the USA.
Gamberi Fra Diavolo
Olive oil, big prawns, minced garlic, red chili flakes, dried oregano, marinara sauce (or egg tomatoes) and chopped parsley. Everything is prepared with great heat, at the end add the pasta and mix well, bon appétit!
For Christmas we have a Torta Dolce di Ricotta. This creamy cake is flavoured with lemon and orange zest. Together with the flaky ricotta, it makes a real holiday cake, delicious.
Interesting for the reader: The "Tomato Sauce Fundamentals" on page 166, where you will find basic recipes for perhaps the best sauce from Italy, nothing more will be revealed here.
At Easter we have Agnello Arrosto con Asparigi, best buy the lamb at the United Meat Market (219, Prospect Park West). The meat is marinated overnight in white wine and spices, then it is braised in the oven at about 160°C for 1.5 hours. Together with the green asparagus it is a truly delicious dish!
It is rare that I have held such a stimulating and exciting "cookbook" in my hands.
On 255 pages the author Daniel Paterna takes us into a world full of aromas, fragrances and delicacies. The reportage-style photos show his love for Brooklyn, its people and of course his dishes.
A special recommendation!
Gebundene Ausgabe: 256 Seiten
Verlag: powerHouse Books; Auflage: 01 (5. November 2019)
Sprache: Englisch
ISBN-10: 1576879151
ISBN-13: 978-1576879153
Größe und/oder Gewicht: 21,2 x 3 x 27,4 cm
by direct:
Feast of the Seven Fishes – A Brooklyn-Italian's Recipes Celebrating Food and Family