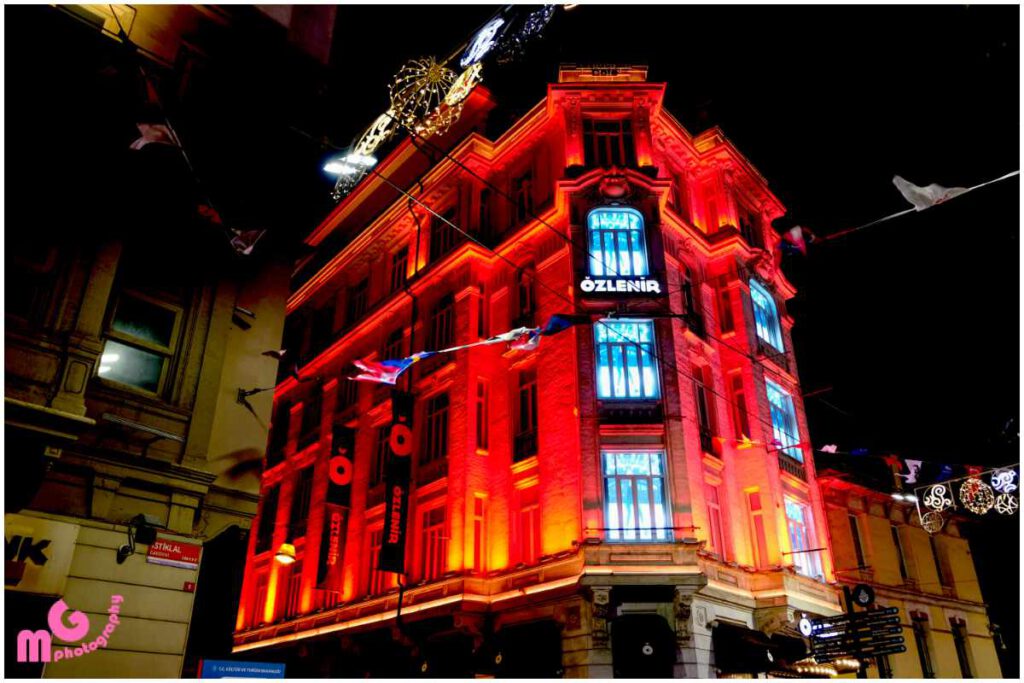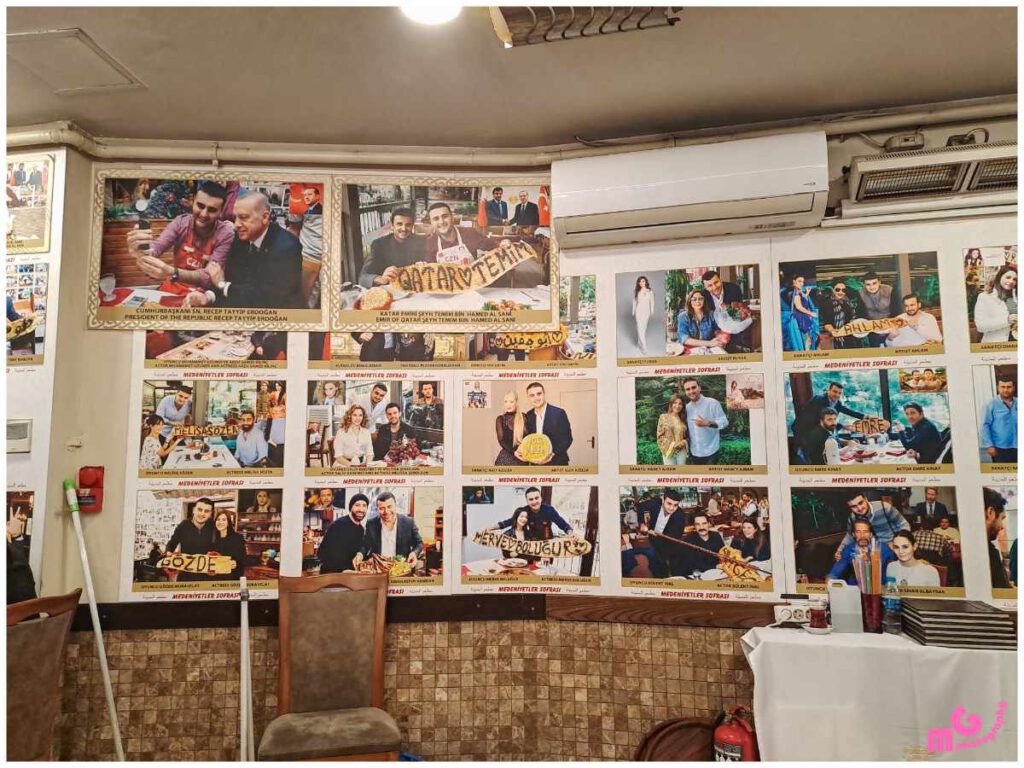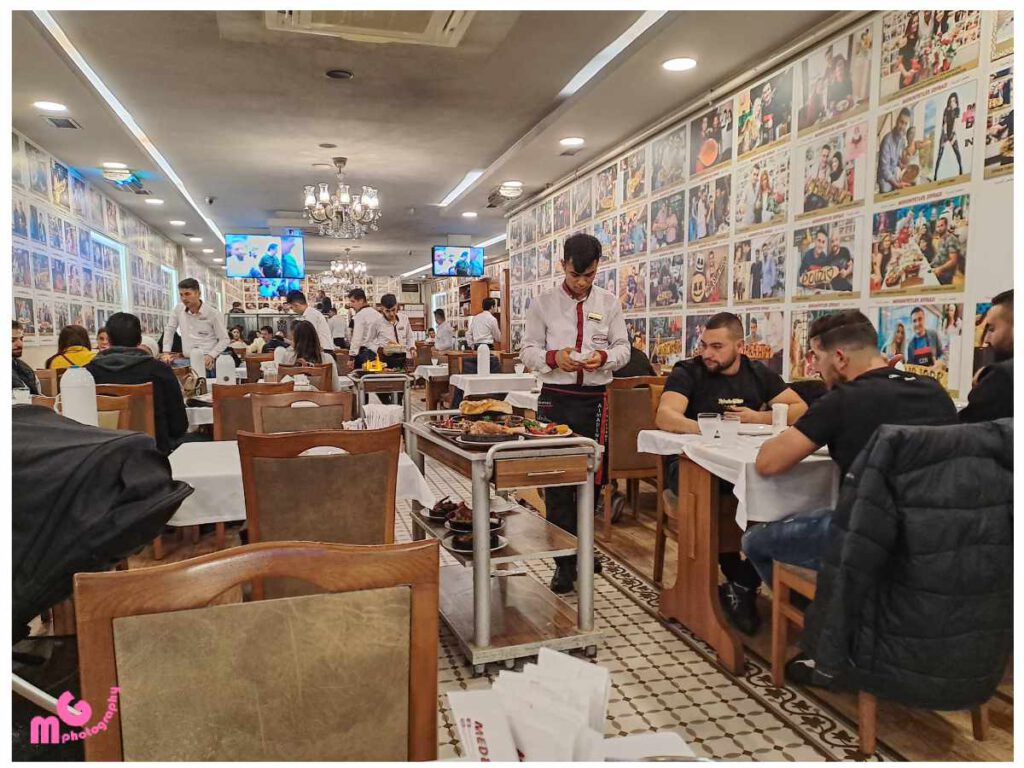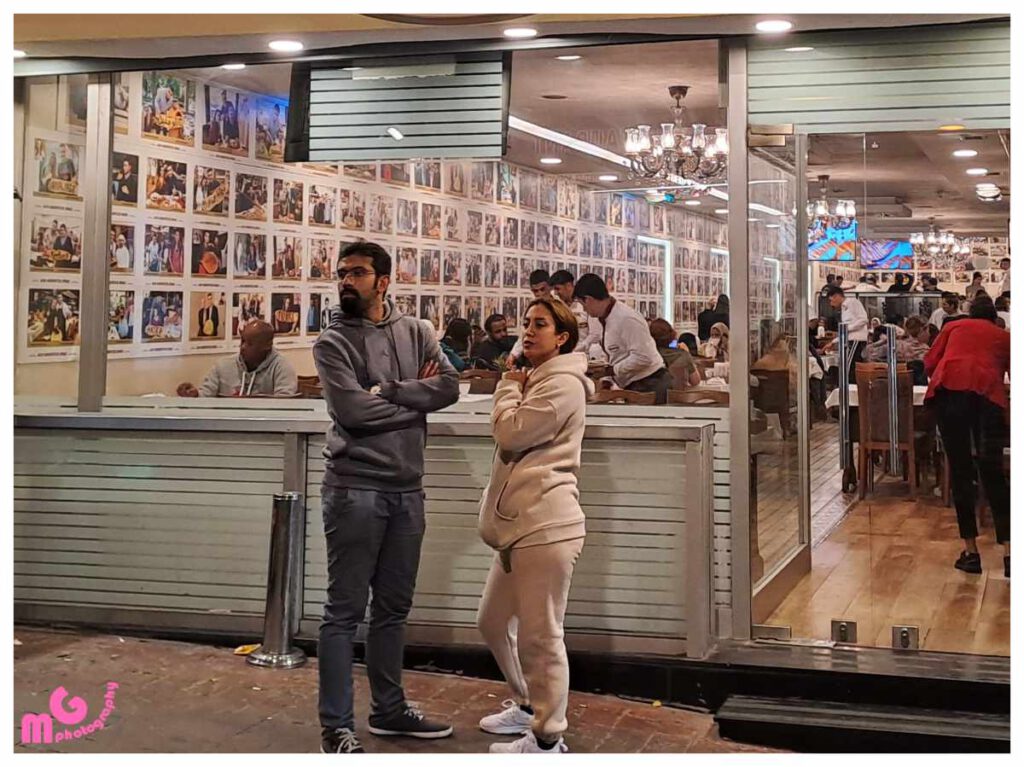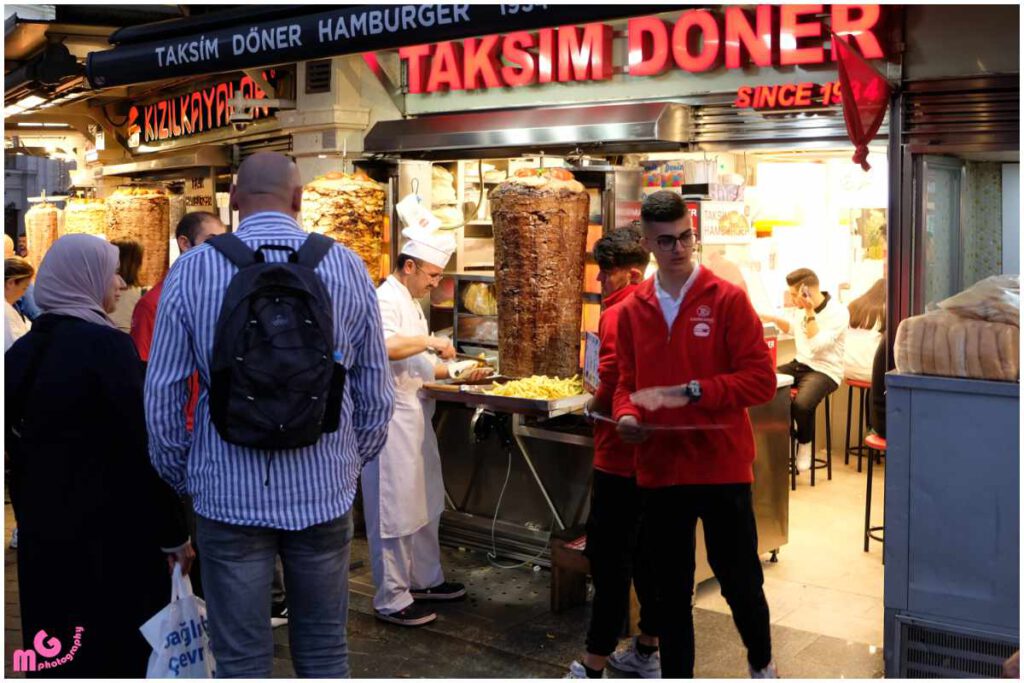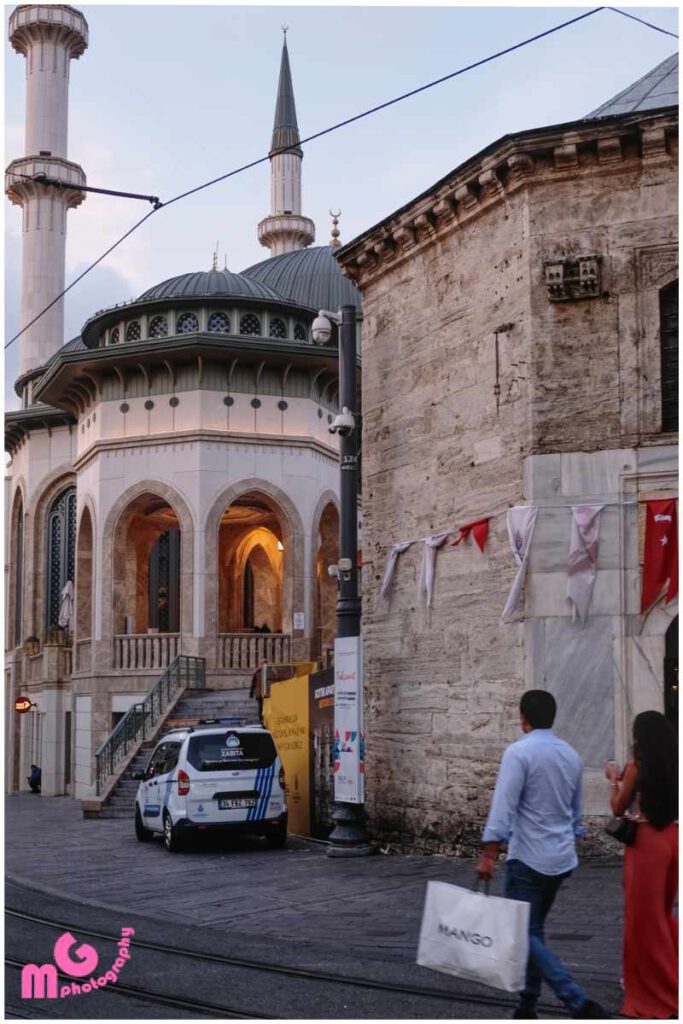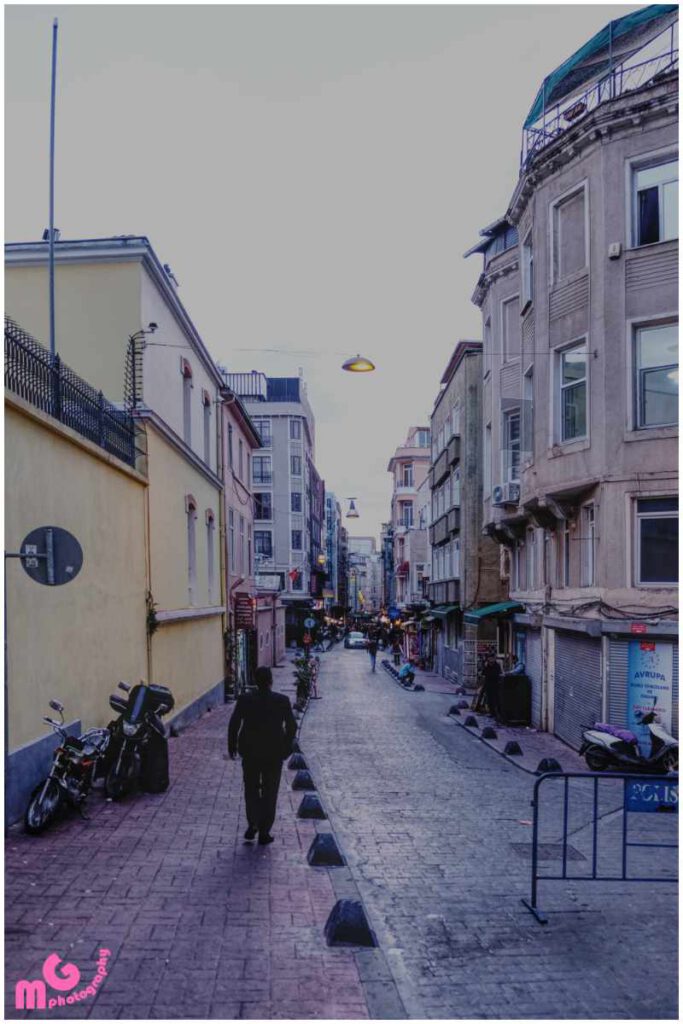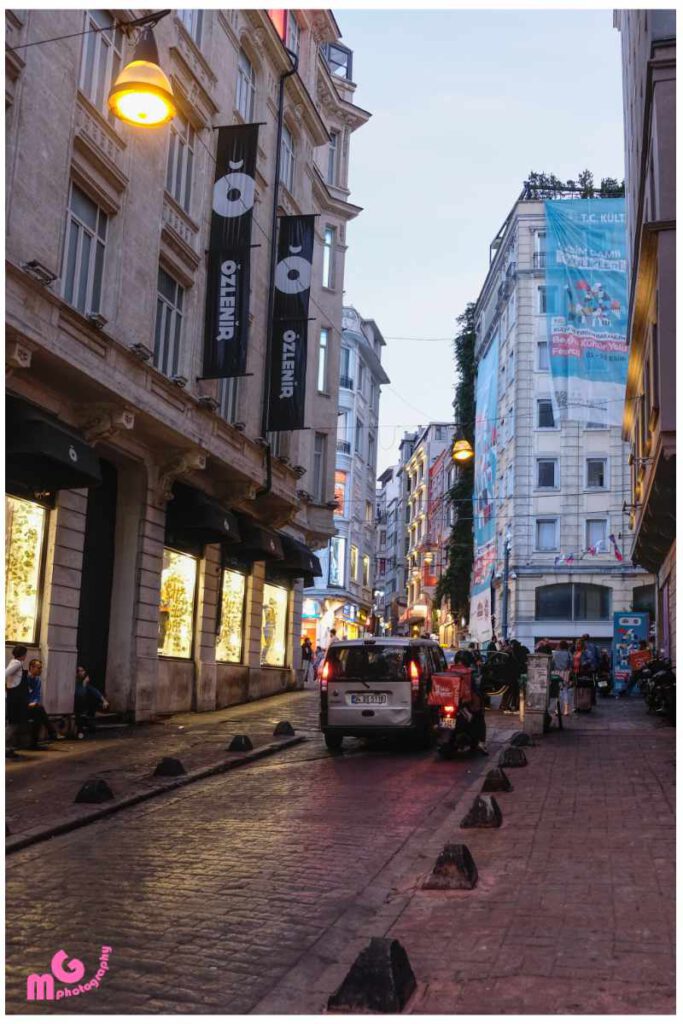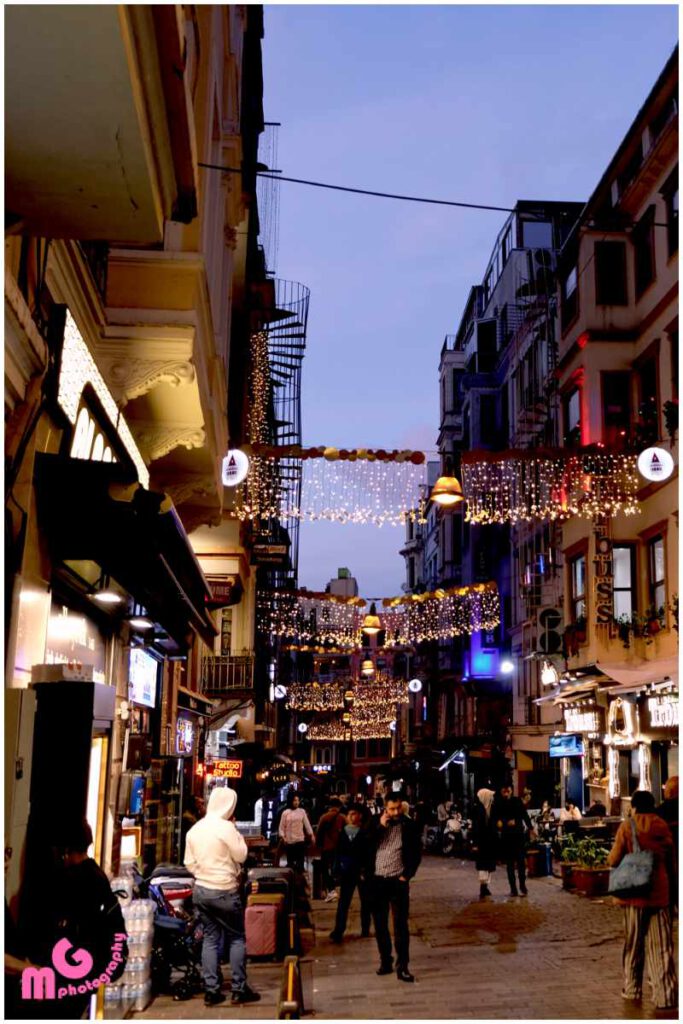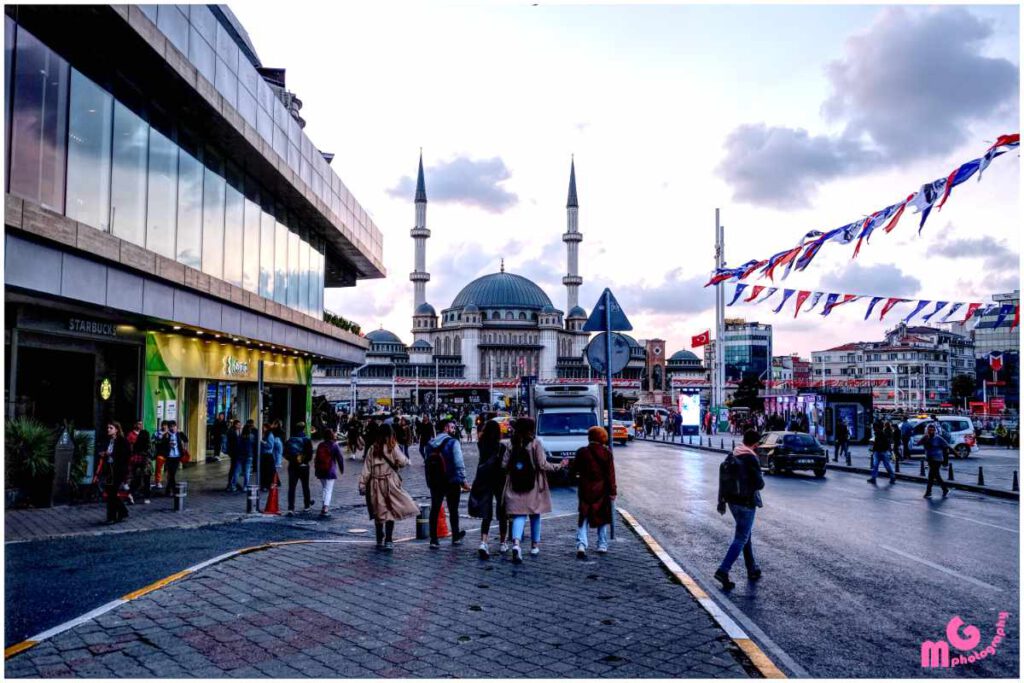 Haute cuisine meets in Istanbul for the Michelin star awards. A great event, where the metropolis on the Bosporus shines in bright splendour.
A Love Supreme
At sunset, Taksim is crowded to the brim, it's like a small carnival.
The many sounds, the laughter, the noise and the shouting reach my ears. It's as if a flying carpet of sound floats into my room.
I can't resist it, throw on a jacket and mingle with the people. Large crowds actually scare me, but today I enjoy the diversity of cultures in the backstreets and squares.
Wonderfully colourful decorations in the numerous patisseries, sweet temptations of all kinds. There is something on offer everywhere, hot chestnuts, corn on cobs roasted on hot embers, ice cream, the ubiquitous simits.
Even late at night, everything is open.
You see kebap houses and other speciality restaurants on every corner.
There are clubs, bars, big and small shops, dark taverns in the secret streets, jugglers, musicians, drummers, tourists, trams, beautiful women, police, business people, drunks, lovers, tour groups, a colourful, happy society. Wonderful.
In a small alley on the right side of İstiklâl, there are only a few figures in sight, but just beyond the next corner, life rages again with full force. The best thing to do is to let yourself drift for a while with this human wave; personally, I wouldn't make any big plans on such an evening.
If you feel like it, you can spend the night until sunrise. There are jazz clubs, cocktail bars and other establishments, and travellers are free to live out their own ideas of the tales of the Thousand and One Nights. I, however, drag myself back to the hotel, tired.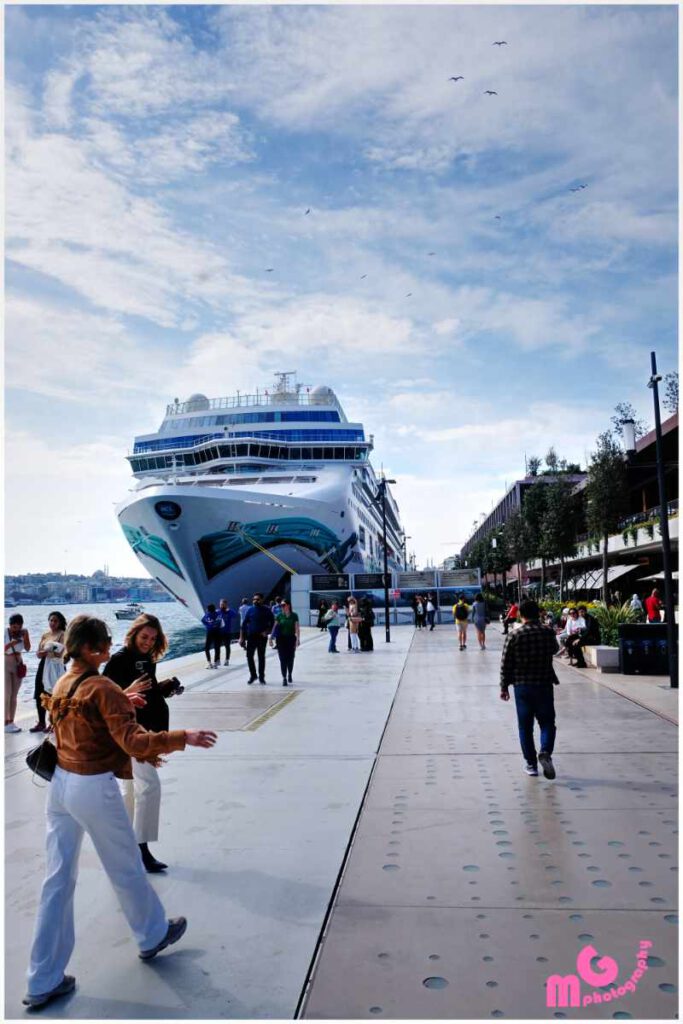 Galata-Port
Lunch is at the Muutto Anatolian Tapas Bar in the newly created Galata Port.
The district is a typical example of an urbanization of formerly unstructured parts of the city, to express it diplomatically. The project is perhaps comparable to Tel Aviv Port, which was realised in front of a long time ago with similar goals.
In Galata-Port, people meet in a relaxed atmosphere, there are elegant boutiques and trendy restaurants.
The core of the project is the mega-terminal for the arriving and departing cruisers. All activities, such as check-in and check-out, car service, transfers to the city, all this takes place underground.
The capacity of the complex is just as gigantic as the project itself. More than 1.5 million passengers can be handled here, and the area also offers enough space for an enormous number of visitors who want to spend their time in a different way, if the weather is nice.
I don't need to mention that cruise liners are in the focus of numerous discussions in the energy and climate crisis.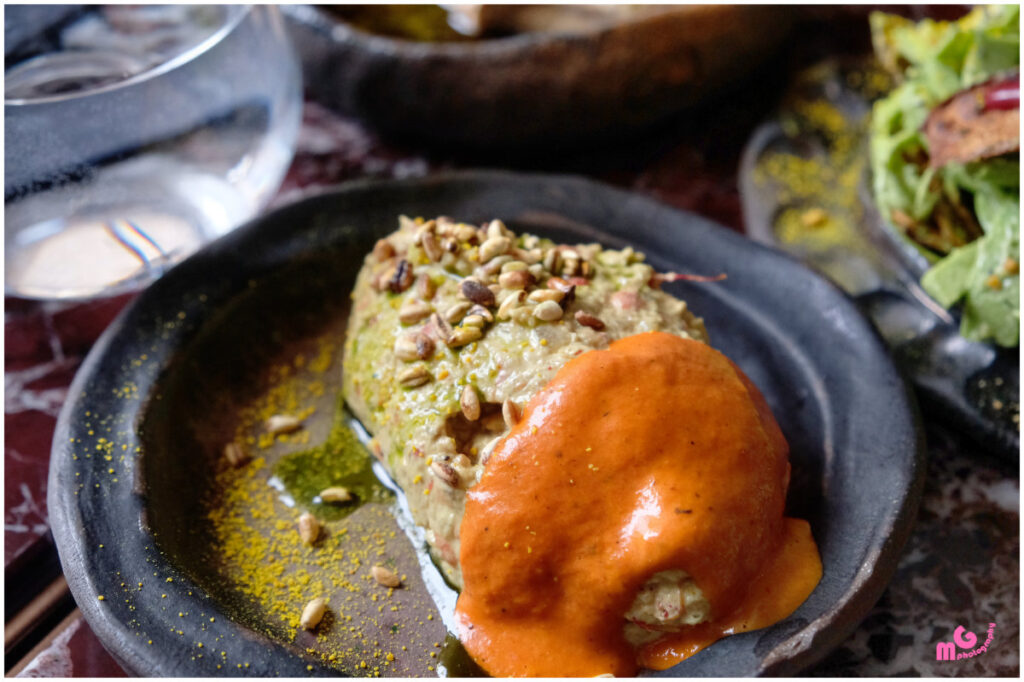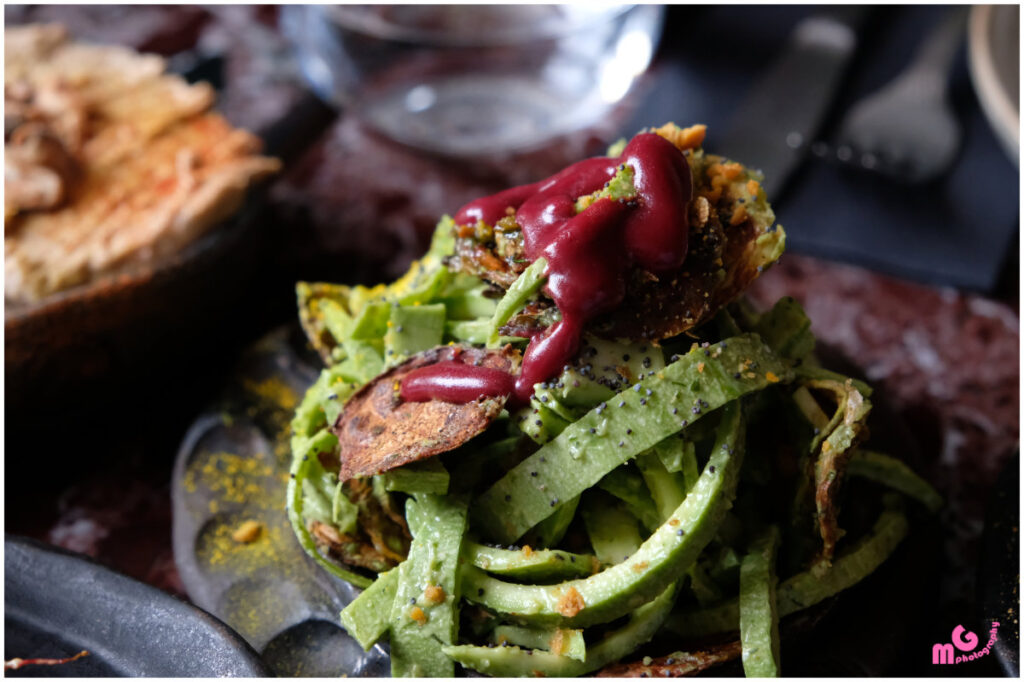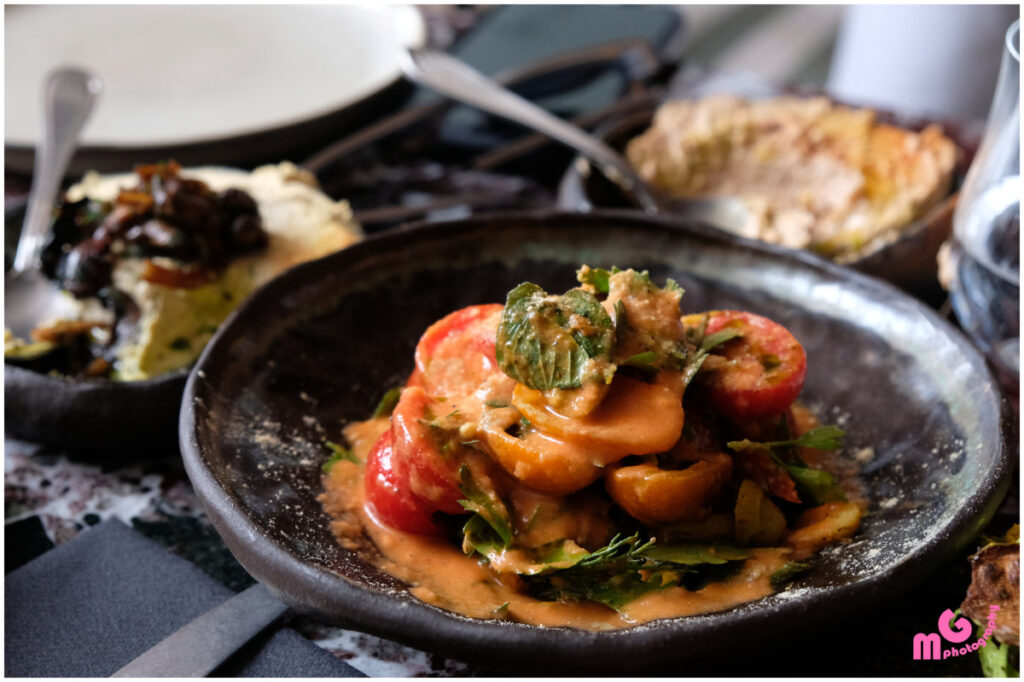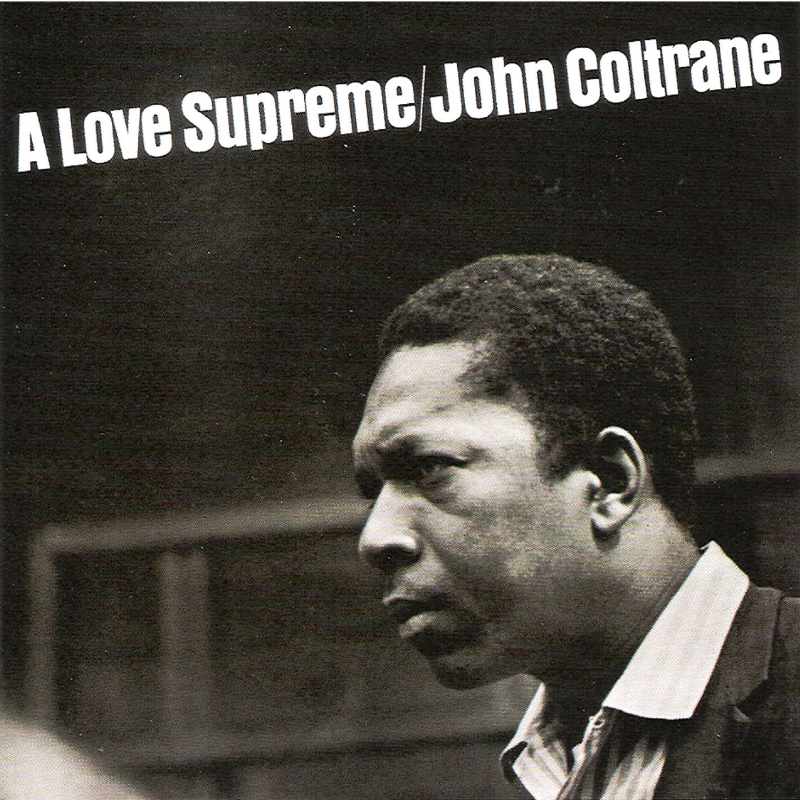 Muutto
Muutto is avant-garde. Muutto is courageous. Muutto is different.
Chef Umut Karakuş has an excellent technique that he developed in France, which you can see in his creations. Karakuş blurs horizons, plays with textures and flavours. He succeeds with somnambulistic certainty. His tapas bar in Karaköy is a mecca for enthusiasts of modern, creative and elegant tapas cuisine.
History, product, method: these are the three components of the creative compass that Muutto navigates by.
We are served fresh, colourful mezze, which we all share at the table. Rarely have we experienced such a beautiful food pairing. Some of the dishes remind me of my old friend Oriol Castro from Disfrutar in Barcelona. But of course they write with a different handwriting here.
All of Umut Karakuş's creations are supported by a fine elegance. On this canvas he then applies the pictures he has already painted in his mind.
My favourite of the day is the tomato salad!
What is created here from a simple nightshade plant is simply great! Like a piece from one of my favourite John Coltrane albums, A Love supreme, nothing but electrifying!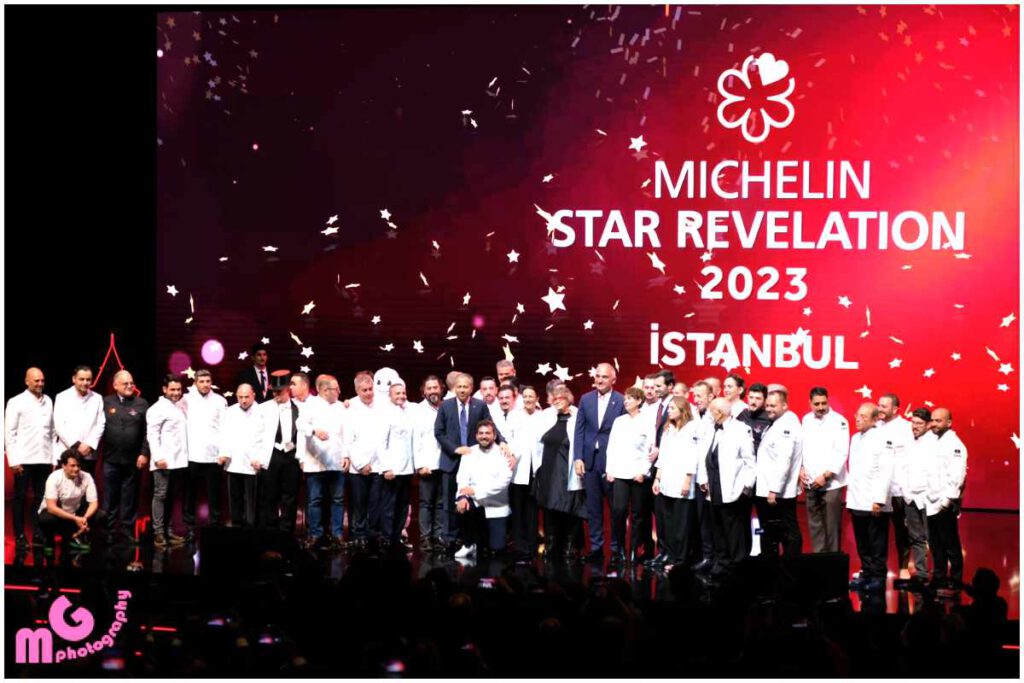 Then, in the evening, the revelation of the Guide Michelin in Istanbul, finally! I ask myself: why not much earlier? It is well known that there is avant-garde, classic and modern haute cuisine there.
Those who get an entry in the red culinary bible have to prepare themselves for a future that is radically new to them.
It's hard enough to get a mention in the Michelin. But a star? It' s almost like a title of nobility, as if the Queen (God rest her soul) were to award a knighthood to someone like Elton John.
Keeping the star requires even more effort and perseverance.
The Michelin star makes the chef an artist, although many chefs don't want to hear that. The argument often comes up: that's craftsmanship, art should be done by painters, please.
A nice understatement! With a single star, one might let that pass, but with two stars, ladies and gentlemen, that's when it gets really funny, and three stars? They shine at the very top of the sky, almost out of reach for an ordinary chef.
With the stars, the guests become more and more demanding, the ingredients more and more expensive, the pressure increases. After all, the guest leaves a small fortune for a tasting menu in many a restaurant of this class, and rightly demands the full package in return.
This begins with the greeting at the restaurant door and often only ends with the first cockcrow, when everyone falls into bed dog-tired, because new, great challenges await the very next day.
Without love and devotion, the system does not work. You have to want it.
Michelin is a magnificent circus, an opera and sometimes a tragedy.
I am happy for Istanbul and congratulate the 53 extraordinary chefs who made it!
I would love to go into detail about every single restaurant, however, that is clearly beyond the scope of this article. It does seem, however, that Fatih Tutak's ravioli tasted so damn good that the inspectors drew two stars, isn't that a wonderful story?